(Cinet)- According to Huffington Post website, Vietnamese "pho" is proud for one of 12 best foods in the worlds.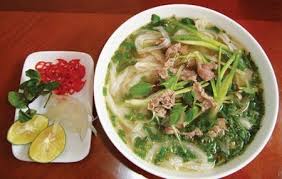 The online newspaper lists the dish as one of the most delicious foods people should discover while travelling abroad. Simply a combination of broth, fresh rice noodles, thinly sliced beef or chicken, with a sprinkle of aromatic herbs, "Pho" is ranked 11 out of the list of top 12 foods.
The noodle soup is typically associated with the capital city, as the late Vietnamese writer Thach Lam made clear in one of his works in the 1930s on local cuisine: "Pho is a specialty of Hanoi. You can taste it in other places. But the pho is better in Hanoi than anywhere else."
Pho is considered a national treasure; so much so that the soup even warranted a conference years ago, covering the social, culinary and historic aspects of the dish. Besides, there are other foods such as Udon noodle, French crepes cook, seafoods of Ceviche and Spain's Patatas bravas…