(Cinet)-
Fans of Chocolate Marou now can enjoy their favorite treats in a beautiful café shop, newly opened by the owners of the globally famous made-in-Vietnam chocolate.

Chocolate Marou has been recognized as the best chocolate in the world
(photo: marou)
Located on 167 – 169 Calmette, HCM City, very close to Ben Thanh Market, Maison Marou is said to bring a whole new experience to its guests. "At Maison Marou, we will take you to the voyage where cacao beans are transformed into the world's most premium chocolate bars and much more," said Vincent Mourou, co-founder of Chocolate Marou in the opening ceremony of the café.
Vincent and his friend have produced chocolate bars with easily recognizable wrapping in Viet Nam for years. Their chocolate has received many awards for its wonderfully unique flavors and is often regarded as the world's best chocolate by food experts and chocolate lovers worldwide.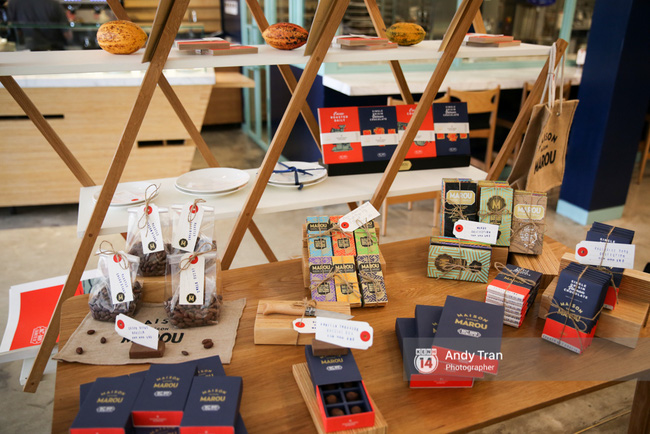 Inside Maison Marou (photo: kenh14)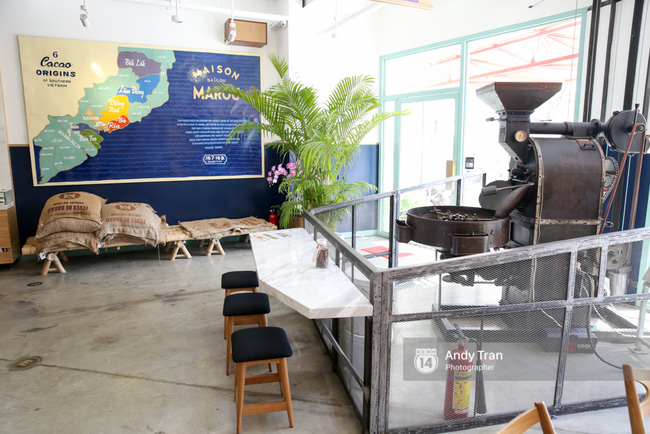 The bean grinder stands in the entrace door (photo: kenh 14)
The owners have tried to keep the décor of Maison Marou clean, neat and minimal as much as they can. An antique bean grinder stands right in the entrance, making a proud statement about what this café and Chocolate Marou represent: the love and the passion about making delicious and original chocolate. Visitors will be offered a free tour of the café where they can discover the process of melting and mixing, quality control and hand wrapping to create a perfect product of Chocolate Marou and Maison Marou. All these things are carried out behind a giant glass panel, allowing guests to enjoy a sip of coffee or hot chocolate, at the same time to observe how their orders are freshly prepared.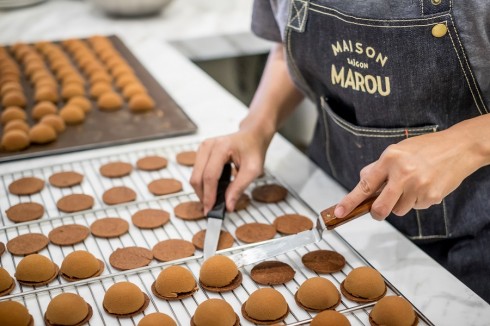 Chocolate truffles are freshly prepared in the premise (photo: ellevn)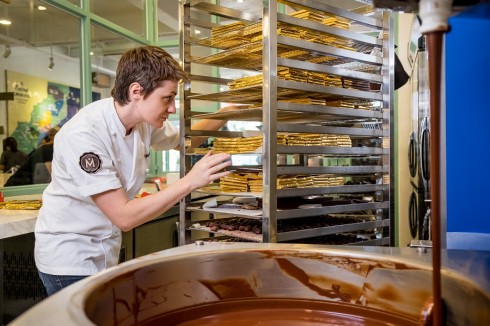 Pastry chef Stéphanie Aubriot
An array of sweet desserts can be found in Maison Marou, from cheesecakes to chocolate mousses, ganaches and chocolate truffles. The pastry chef behind the impressive menu of the café is a young lady, Stéphanie Aubriot who was born in a family with four generation working as bakers in France. Another notable name in the team is Gun Arunpraphan, a Thai-born chef who decided to quit his job in Paris to join Maison Marou.
MD