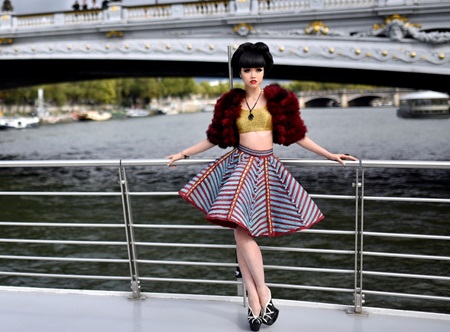 Photo: Tan Da Lat
(Cinet)- After marking a milestone in the fashion world on the Eiffel Tower at the end of last year, the model and entrepreneur Jessica Minh Anh will return to the world's fashion capital, Paris, to produce another grand show on October 29.
Entitled J Autumn Fashion Show 2015, the fashion event will be organised on a large glass boat on the River Seine that will be transformed into a special 100m-long catwalk.
To create an illusion of the models walking on water, the invitees will be seated opposite glass windows. Major landmarks of Paris such as the Eiffel Tower, the Notre Dame Cathedral, Louvre Museum and 37 bridges spanning the River Seine will become natural backdrops of the special show.
Presenting a combination of arts, architecture, culture and fashion, the show will introduce eight collections by designers from four continents. Special invitees such as renowned international fashion designers, ambassadors, ministers and leaders of many companies and newspapers will attend the event.
In addition to jewellery, high-grade and casual fashion collections, Jessica Minh Anh's special hair styles, created by talented artists, will be another highlight of the programme.
Jessica is organising the J Autumn Fashion Show 2015 in collaboration with top fashion designers and luxury brand names such as Mont Blanc, Paul Costelloe, Addy van den Krommenacker and Yumi Katsura.
Jessica was born in Ha Noi and grew up in Moscow, Russia. She won full Petronas Scholarship to study IT in Malaysia. After graduating, she earned a master's degree, majoring in public relations in the United Kingdom, and started to realise her dream of becoming a fashion show organiser and to produce shows at iconic landmarks.
Jessica has made a deep impression through her special fashion shows that have been held at the Eiffel Tower (Paris), the London Tower Bridge (the United Kingdom), One World Trade Centre (the United States), and Gardens by the Bay's Skyway (Singapore), as well as the Twin Towers' Skybridge (Malaysia) and especially the world's highest catwalk on the Grand Canyon Skywalk in the United States.
Her fashion shows have been broadcast on many television channels such as the BBC, FOX5, ABC and CBS, as well as ITV, CNBC, MBC1 and Canale 5, besides MTV, FashionTV, and Dubai TV.
Some
pictures
before the show
:
Photos: Tan Da Lat