(Cinet)- A fashion show was held at the Ao Dai Museum in HCMC's District 9 last Friday to honor the beauty of Vietnamese and Indian traditional costumes - ao dai and saree.
With the them "Ao Dai and Saree – An Ever Unbreakable Friendship", organised by the Indian Consulate General of Ho Chi Minh City and the Ao Dai Museum owned by popular Vietnamese designer Sy Hoang, the show featured performances by Miss Universe Vietnam Pham Huong and Indian women. Local pop singer Nguyen Phi Hung also contributed a Hindi-Vietnamese fusion song and gained the applause of audiences.
According to the organizers, the show was a curtain raiser to the main event which will be held some time between December 2015 and January 2016 to present a Sy Hoang collection along with saree.
At the event, Indian Consul General Smita Pant said: "This fashion event celebrated the beauty, elegance and vibrancy of costumes of the two countries. Both costumes are unique in a particular way with a very distinct identity and are not just simple attires. They are cultures in themselves."
The consul general added the event was the beginning of the upcoming fashion show by Sy Hoang to showcase how Indian fabric and its colors can be tailored to make beautiful Vietnamese costumes including ao dai.
She noted India is seen as an emerging force in fashion industry with Indian companies launching their own fashion brands and the country's fashion institutes having the reputation of producing eminent designers.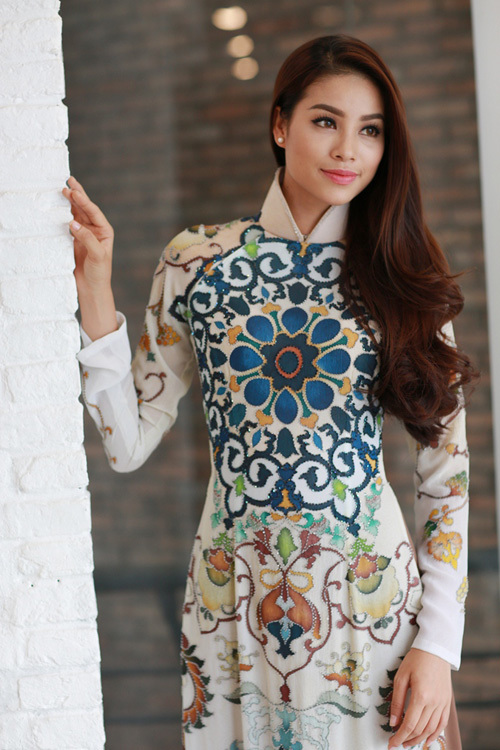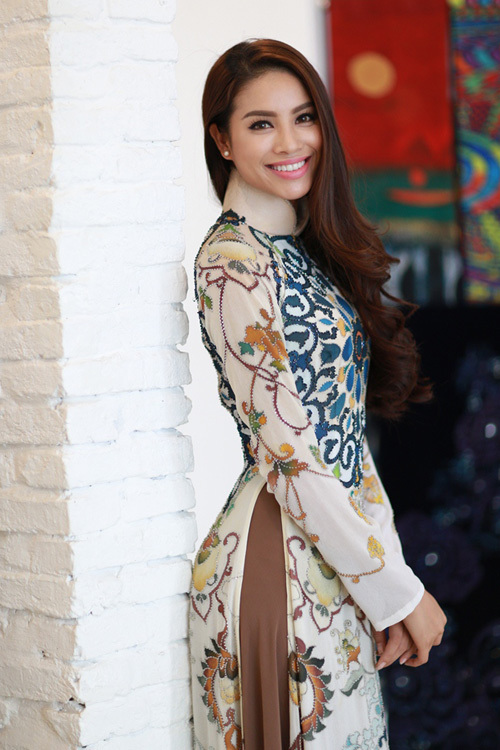 Miss Universe Vietnam Pham Huong in Ao dai that showed at the event.
"Our women have won Miss Universe and Miss World titles which have made our designers recognized worldwide. The industry has a very wide range and our fashion shows are attracting many foreign buyers. The upward moving and cosmopolitan middle class in India has helped this industry grow. They value great designs and I therefore see tremendous scope for Vietnamese fashion designers to showcase their collections in India and to penetrate this market," she added.