(Cinet)- Yao Tien women in Bac Kan Province are famous for their elaborate, colorful and distinguished dresses.
The two most recognized features of Yao Tien's garments are the dyeing techniques and the decorations. They are considered as the basic elements for a beautiful dress; moreover, the combination of white and indigo also helps to create the unique point in Yao Tien fashion.
The process of cloth weaving includes collecting hemp, then having them soaked in cold water for many hours. Yao Tien women use the simple traditional looms to weave the cloth. A typical piece of cloth is about 40cm in length and 30cm in width.
The Yao Tien use Batik technique in dyeing their cloth. Batik is a saved-dye technique: part of the fabric is protected by wax during the dyeing process creating a pattern. Patterns are drawn on to the fabric with melted wax. The tools used are wax stylets made from curved copper, triangular pads and tiny bamboo tubes. When the wax is dry, the fabric is dyed several times in indigo baths then immersed in boiling water to melt the wax. The protected patterns appear as a light color on an indigo background.
The embroidery technique of Yao Tien is quite special. They prefer using running stich which makes the patterns more visible on the top of the sewing. The patterns include eight-wing stars, cross, animals, flowers, plants etc. The favorite colors are black and white.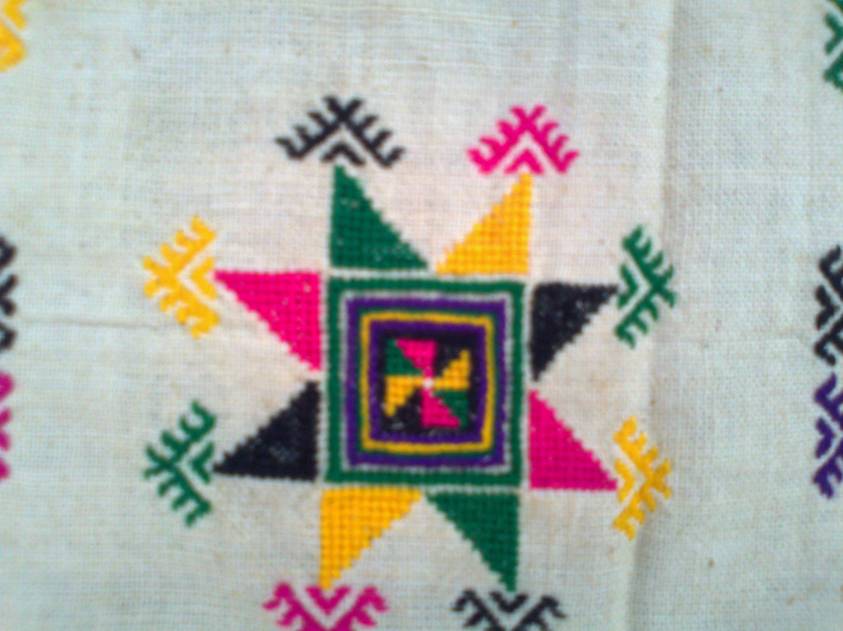 A pattern of eight-wing star (Source: Internet)
Accessories are ultimately important in Dao Tien's fashion. Silver or metals beads and coins are used to do buttons or decorations for dress. Sometimes a Dao Tien woman can wear a whole set of jewelry of a few kilograms while still feels extremely happy about that.
A full set of costume includes: coat, top, long dress, belt, headdress and lots of golden or silver accessories. In the large community of Dao people in Vietnam, only Dao Tien women wear dresses.
The headdress of Dao Tien women is usually in white color, and about 1,2m to 1,5m long. The main pattern of the headdress is the shape of square. When putting on a headdress, a woman usually mounts her hair high and pushes it a bit to the front.
Silver pieces are attached to cloth and worn as a necklace underneath the dress or outside in the back. Silver pieces are also applied to cloth and incorporated into a headdress or belt.
Like other minority groups in Vietnam, Dao Tien's little girls have been taught to weave and sew from a very young age. The Dao Tien say that when a woman gets married, she has to make enough clothing for one year by herself. Her parents will also give her a lot of jewelries which will be treated as family treasures and transferred to next generations.
Fact:
Mien (Yao) is an ethnic minority group in Vietnam whose members are drawn from either the Mien Yao or the Mun Yao language branches. Yao groups in Vietnam have been given names that refer to colors of decoration of their dress. Among these people are the Red Yao, Black Yao and Yao Tien (or Money Yao, referring to coins that decorate their clothing.) The Yao are found widely throughout the mountainous morth of Vietnam, with major pockets of settlement in Hoa Binh, Son La, Dien Bien, Lai Chau, Lao Cai, Tuyen Quang, Thai Nguyen, Yen Bai, Ha Giang, Bac Kan etc.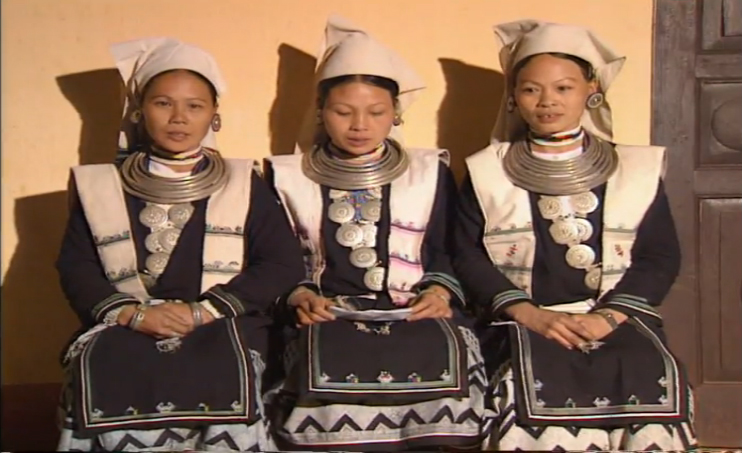 Three Yao Tien women (Source: Internet)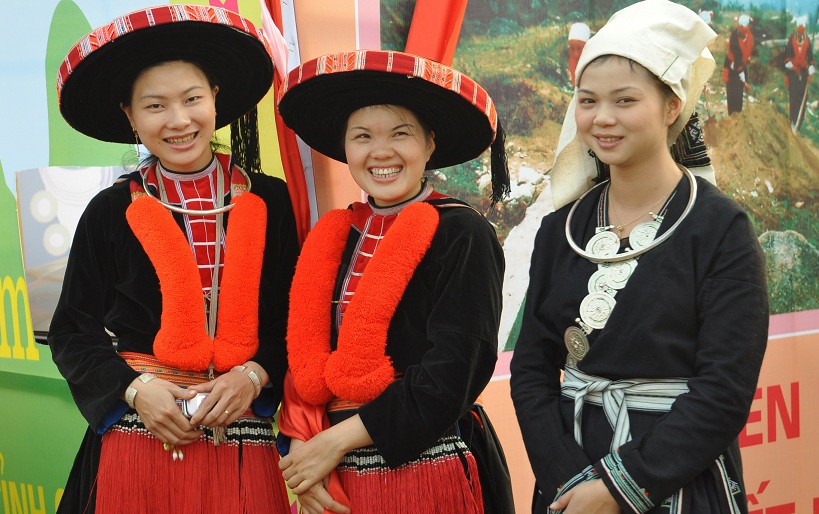 Girls of Yao Tien and Red Yao (Source: Internet)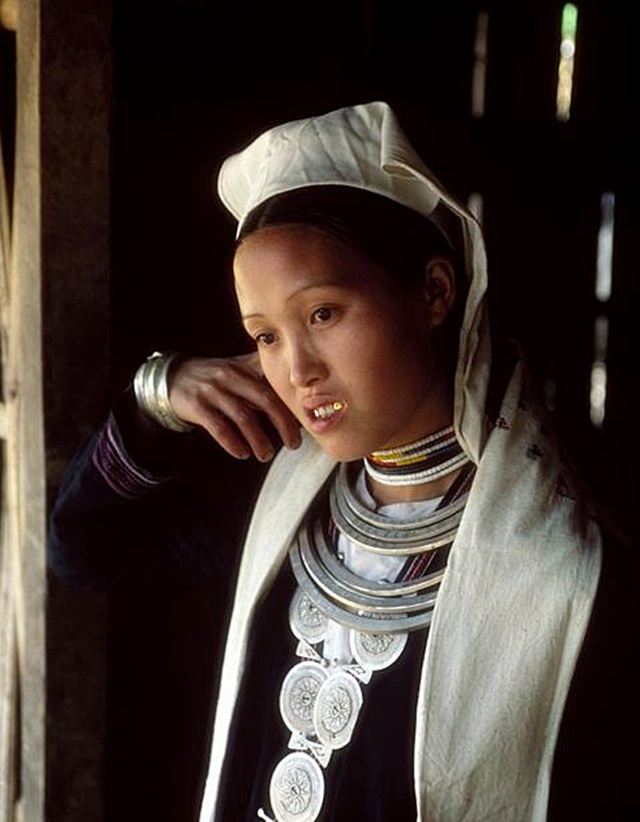 Portrait of a Yao Tien lady (Source: Internet)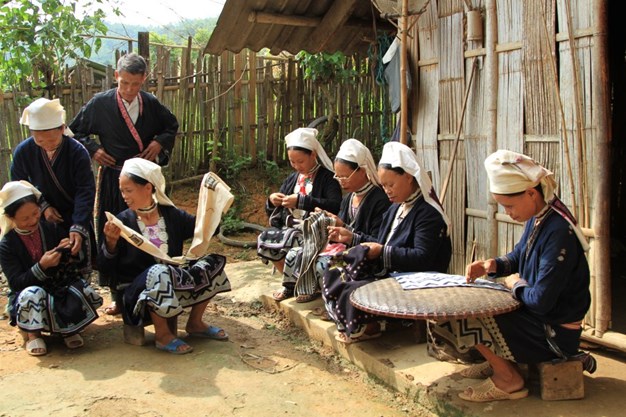 Yao Tien women and brocade weaving (Souce: Internet)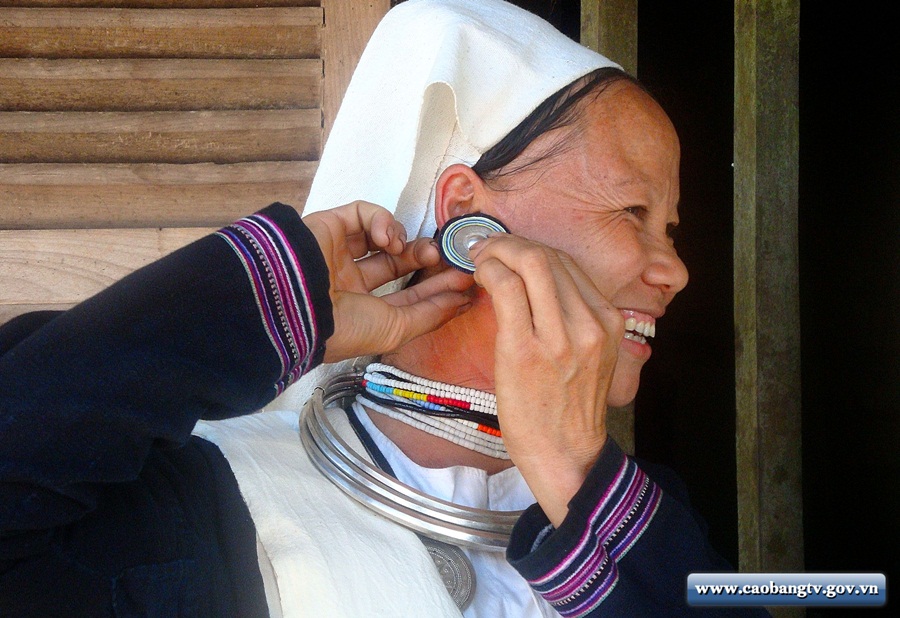 Portrail of a Yao Tien woman (Source: Internet)
Phuong Do