Experts have warned the growing popularity of Vietnamese cuisine makes it even more imperative that dishes remain loyal to their origins.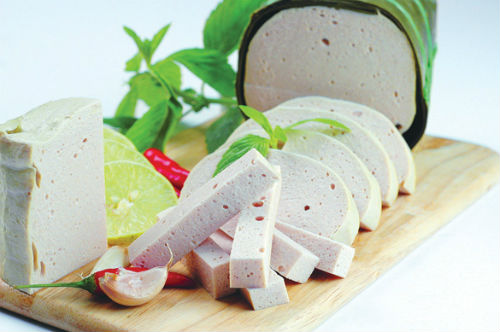 At a time when Vietnamese cuisine is garnering greater international attention and acclaim, it is all the more important that its authenticity and originality is understood and preserved, national culture luminaries say.
A roundtable discussion on this issue, held late last month at the commemorative house of the late photographer Pham Van Mui, brought together Dr. Nguyen Nha, head of De an Bep Viet (Institute of Vietnamese Cuisine), Prof. Tran Van Khe, Honorary member of the International Music Council (UNESCO), and culinary expert Bui Thi Suong.
Opening the discussion, Nha said Vietnamese cuisine is very natural, contains little fat, a lot of vegetables and its dishes are at once appetizing and healthy. Many dishes are helpful in preventing cardiovascular problems, diabetes, gout and even cancers, he said.
He noted that these values have been highlighted in books published by De an Bep Viet, like Ban sac am thuc Viet Nam (Vietnamese gastronomic culture), Doc dao am thuc Thang Long - Ha Noi (Unique cuisine of Thang Long - Ha Noi), and Doc dao am thuc Hue (Unique cuisine of Hue).
"We are preparing to publish other books like Pho Viet (Vietnamese noodle soup), Doc dao am thuc Nam Bo (Unique cuisine of the South), Doc dao am thuc Sai Gon (Unique cuisine of Sai Gon), and Doc dao am thuc dan toc it nguoi tai Viet Nam (Unique cuisine of Viet Nam's ethnic minorities).
He said the hope is that these books help restaurants and other eateries use the correct ingredients and methods to serve good food, foster the training of chefs, and "bring authentic Vietnamese cuisine to the world".
Gio lua and cha gio
The three experts expounded on their theme of authenticity by telling the story of two iconic Vietnamese dishes, one from the north and the other from the south - gio lua (pork bologna) and cha gio (spring roll).
Gio lua is a long-standing traditional dish mentioned in Thuc Vat Tat Khao Tuong Ky Luc, a book written in the Vietnamese ideographic Nom script. Scholar Hoang Xuan Han says therein that a eunuch chief created the dish in 1744-45, during the reign of Le Trung Hung.
It is made of pounded pork, wrapped tight and boiled, hence its surface is smooth he said.
The southern people call the dish cha, which is not right, and in the north people call cha gio, also wrongly, as nem ran, Nha said.
Strictly speaking, nem is a kind of food that is fermented, and there is no boiling involved in making cha.
Nha said it may be that the northern people see cha gio having the same tubular shape as their nem chua (fermented pork hash wrapped in banana leaf), and the southerners see gio lua having the same smooth surface as their cha.
Both have it wrong, but no one wonders about or bothers to correct this, he added.
Suong said gio lua has become a popular dish for Vietnamese people everywhere. For breakfast, gio lua is cut into slices and placed between two slices of bread or banh giay (glutinous rice dumpling).
It is also eaten with banh uot (steamed thin rice pancake), banh cuon (steamed rolled rice pancake), bun bo (vermicelli soup with beef) and bun moc (meatballs vermicelli soup).
Gio lua has gone on to become an indispensable dish in a Vietnamese banquet or feast, Suong said.
He said that in order to make gio lua, it is necessary to use fresh pork meat that is "still warm."
The pig chosen to make this dish usually weighs 50-60kg, is very healthy and brought up "naturally," meaning it has not been given modern animal feed.
Furthermore, the nuoc mam (fish sauce) used to make gio lua must be of very good quality and have high protein concentration, she said.
The dish should be wrapped in a large banana leaf, but the innermost layer of the wrapping must be a tender leaf so that the gio lua, after boiling, has a light yellow colour like the colour of silk.
"I wonder if gio lua gets its name from this (silk is lua in Vietnamese)," Suong said.
The lean pork is cut into cubes, the veins removed and pounded well in a mortar made of jackfruit wood. Nuoc mam is added and the meat is pounded and kneaded again until the spice mixes well into the meat.
This mixture is then wrapped tight in three or four layers of banana leaf and tied with a bamboo string to prevent water from entering when it is boiled.
Gio lua is then placed in a vertical position in a pot with boiling water and boiled for one hour.
In the old days, residents of Uoc Le Village on the outskirts of Ha Noi used to light a joss stick when starting to boil gio lua. When the stick had burned out, it was time to take the gio lua out, Suong said.
"Gio lua is unique and quintessentially Vietnamese," Nha said.
Though cooking it does not require sophisticated methods, it has to be done very precisely.
"If just one step or one ingredient is not correct, the quality of gio lua will clearly reduce."
If the meat was not fresh, or the pounding was done slowly, the dish would not be as good as it should be. If the nuoc mam or the banana leaf was not of high quality, the dish would not have its natural, real taste, he added.
Gio lua was traditionally made on death anniversaries, festivals and Tet (Lunar New Year). In particular, making the dish for Tet was a collective effort.
In the cool winter spring weather, gio lua could be kept for a long time and used during the holiday.
However, Nha said, after gio lua began to be traded, the lack of fresh meat and mass production has made it difficult to get the original, appetizing dish.
Besides, producers were also using additives like borax for the dish to remain firm and not fray, or using more fat and skin of pork to make it economical and profitable.
Prof Khe also blamed mass production for the practice of replacing the banana leaf with pieces of nylon for the loss of gio lua's original taste.
Pounding with a pestle makes the meat glutinous and tough, and this cannot be achieved with grinding as food processing companies do nowadays, he said.
"Formerly, people just added pepper, fish sauce and a few spices to the meat, people now add too much flour and spices, losing the special taste of the dish."
Khe said he had gio lua in France once that was much more closer to the original dish than what he gets in Viet Nam these days.
Imperial roll
Suong said the south is the "fatherland of cha gio," now a must-have Vietnamese appetizer in any banquet menu.
While it has the same form all over the country, the spring roll has different ingredients and even names in different regions. It is cha gio in the south, ram in the central region, and nem ran in the north.
Cha gio has become a favourite dish of both Vietnamese and foreigners. The French called it rouleaux de printemp or pate imperial, which means spring roll or imperial roll.
In Southeast Asia, the Philippines has lumpia and Malaysia has popiah that are similar to Viet Nam's cha gio, but they both use wheat flour for the wrap, while the Vietnamese dish uses rice paper.
Besides, while other countries fry the stuffing with several kinds of vegetable before wrapping, in Viet Nam, raw meat, shrimp, crabs and vegetable are wrapped first and then deep fried, given cha gio its distinct fragrance and taste.
Moreover, the Vietnamese method keeps the stuffing soft and glutinous even after the roll is deep-fried.
Cha gio lends itself easily to diversification in both form and ingredients. The stuffing can be made of seafood or poultry or even red meat.
Nha said, "Many northerners like me call it nem Sai Gon.
"Sai Gon is a junction for Chinese, Western as well as cuisine of ethnic minorities like the Cham and Khmer. And cha gio is dish typical of this coming together. Nobody knows exactly when the dish was born, but it is said that it appeared first during the time of French domination."
While there are other countries that make spring rolls, only cha gio was listed as one of the world's 50 most delicious foods by CNN Go in 2011.
Nha said the authentic cha gio must use the Vietnamese rice paper as the wrap, its sauce made of diluted nuoc mam Sai Gon style and the stuffing made of just the right mix of meat, shrimp, crab and vegetable.
"Especially for the Vietnamese, cha gio can make up a full meal when it is combined with bun (rice vermicelli) and lettuce and aromatic herbs," he added.
He stressed that "variations" could make the dish lose its Vietnamese character.
"Both ingredients and the method are very important and will affect the quality of cha gio."
According to him, the banh trang used to wrap cha gio must not be too thin or too thick. In order to make the dish crisp, lemon juice or vinegar should be added to the water that is used to wet the banh trang, or be added to the cooking oil.
Recently, there have been a lot of variations from the original cha gio, with squid, snails, or vegetables used as stuffing.
As with the gio lua, the cha gio made in families from scratch will be of the best quality, not containing food additives and preservatives. When the dishes are made to sell in the market, food safety and hygiene issues become important.
"In order to bring Vietnamese cuisine to the world, food companies should ensure the traditional characteristics of their products."
Good business
A representative of the Cau Tre Export Goods Processing JSC said it is wrong to assume that industrial production and processing automatically means that the traditional quality of the dishes is lost.
Dang Thuy Duong, the company's director, said that their gio lua meets the requirements of the traditional dish, including "warm" pork, clean vegetables, high quality nuoc mam and banana leaf.
It just replaces the bamboo string with a nylon string that is safe even in boiling temperatures, she said.
"The bamboo string could easily break off, or have splinters that could hurt the consumer," Duong said.
"Hence the replacement aims only at ensuring their safety."
She said her company's product has been able to enter Japan and the US, known for being hard markets.
Similarly, its cha gio is wrapped and rolled by hand, and thin banh trang is used to create the crispy, savoury taste, she said.
Duong reiterated that with 30 years of experience, her company is able to retain the traditional flavour of the dish, but the experts were not too impressed.
After sampling the company's products, they came up with a lukewarm "acceptable."


Source: VNS