A Vietnamese-native blind woman has written a true fairytale in the United States.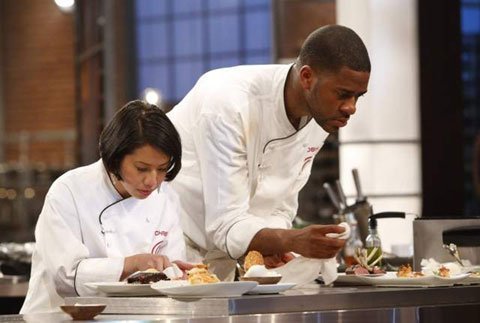 On the evening of September 10, the final episode of the reality show Master Chef 2012 was aired in the expectations of millions of viewers, many of them from Vietnam. And after two hours of the toughest competition of the 3rd season, Christine Ha passed Josh Marks to become the new Master Chef of the US.
Standing next to her rival in the most awaited moment of the show, the Vietnamese blind female chef looked very small. However, Christine Ha has made not only Josh Marks, but also 16 previously eliminated contestants, really feel impressed by the her talent.
Sharing her feelings after becoming the winner of Master Chef 2012, Ha, 33, said: "Till now, I still can not believe I'm the Master Chef."
"This is one of the most amazing experiences I've ever experienced. Overcoming innumerable difficulties, overcoming so many other talented contestants, I have made my dreams." Christine said.
Back to the main developments of the last episode, both contestants had two hours to make three tests: appetizers, main dishes and desserts. While Josh Marks introduced a pretty impressive menu with three dishes prepared sophisticatedly with lobsters as the main material, Christine Ha prepared an authentic Asian meal.
She introduced to the jury and the audience Thai papaya salad mixed with crab and mixed vegetables as appetizers, rice broken with grilled ribs for main dishes and fruit ice cream with lemon and coconut flavor as desserts.
Although Christine did not present much of her cuisines, after tasting, all three judges highly appreciated the perfection and harmony in her meal.
After moments of consideration with two colleagues, Ramsay Gordon decided the winner of Master Chef season 3 is Christine Ha. Gordon said that this decision was the most difficult for him.
"She has a great taste and she processed her dishes based on both skills and feelings. I believe that thanks to her that in the next seasons of Master Chef, contestants will have more goals to work towards," Gordon said.
Meanwhile, Joe Bastianich said: "Thanks to a special taste with a strong passion for cooking, Christine Ha has really inspired all audiences of this program."
With this victory, Christine Ha became the first visually impaired contestant to win the Master Chef. She earned $250,000 prize along with the publication of a cookery book written by herself.
Source: VNN