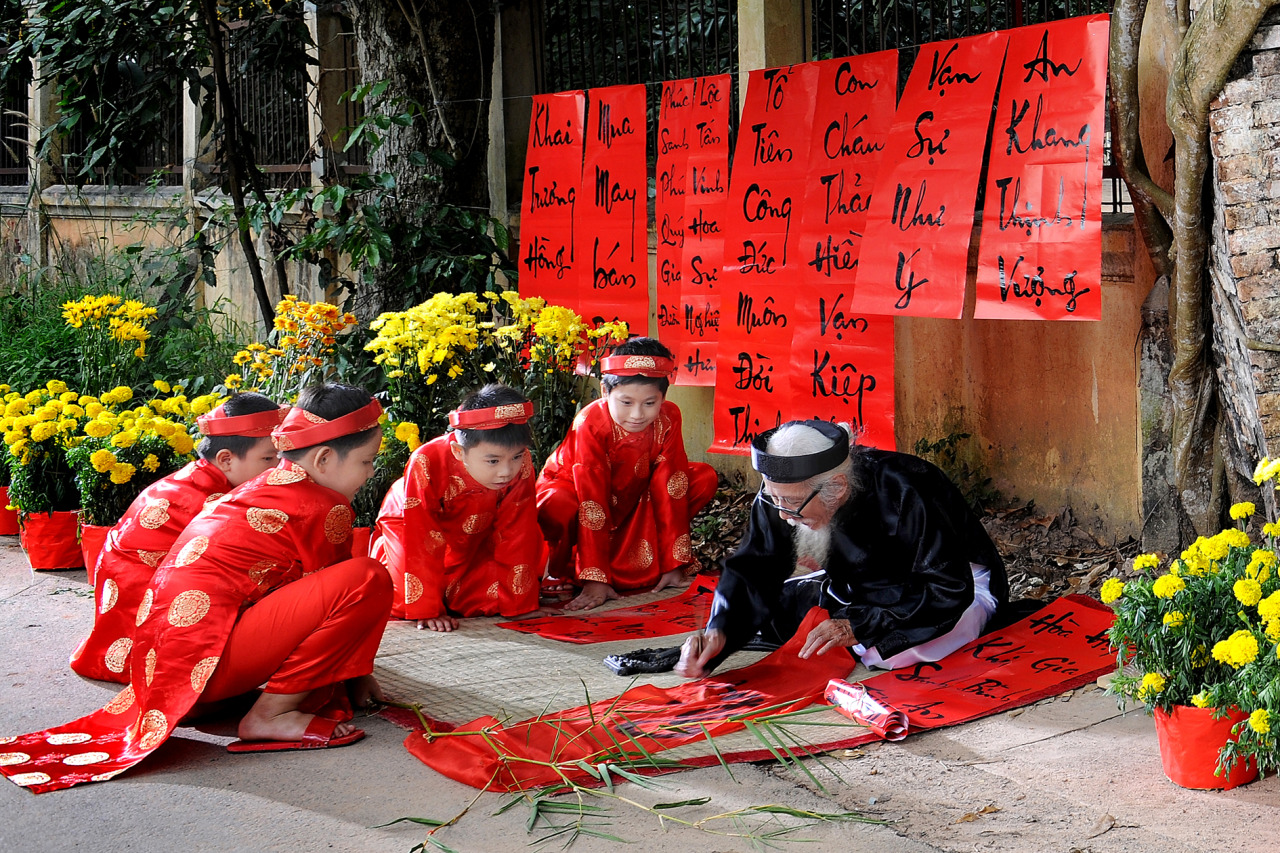 Illustrative image
(Cinet)-
Folk paintings and calligraphical works have long been an indispensable Vietnamese tradition in Tet (Lunar New Year,) which is believed to bring purchasers good luck and prosperity.
Calligraphical works
With the Tet Lunar New Year round the corner, attendant will have the opportunity to learn how to draw traditional Tet best wishes like "Phuc – Good Fortune", "Loc – Prosperity" and "Tho – Longevity". Apart from gaining the knowledge, it can prove a great wide for attendants to do with their own hands, personalised valuable presents for the loved ones for the coming Tet.
Calligraphical works are those featuring stylized words in Vietnamese, Chinese and even English or any other language that one's heart desires. The words, which are mostly with educational and literary meanings, are written in a special kind of ink and with a brush.
Those trained to write the words are called "ong do" (calligrapher,) who are usually senior in age and dressed in male "ao dai" (traditional long gown) and headdress.
People typically come to see "ong do" before, during and after Tet and have them write the calligraphized words on different kinds of paper in return for money.
"Ong do" generally sat on the sidewalk in some streets in Hanoi, but this year around 200 ones will gather in 100 tents erected inside Van Mieu Quoc Tu Giam, which is believed to be the country's first university. Only those who pass a qualifying test are eligible to join the activity, which will be strictly monitored by the organizer to ensure no overcharge or rip-off.
The event is set to run from the 20th of the current lunar year to the 15th of the lunar new year's first month, or February 8 to March 5.
A similar festival is also running at around the Van Mieu Quoc Tu Giam (the Temple of Literature – Vietnam's first university) in the capital city of Hanoi.
Tet folk paintings
Folk paintings are a combination of traditional cultural values with ancient artistic methods that have been created through the labour of past generations. There are two types of Vietnamese folk paintings, Tet (Lunar New Year Festival) paintings and worshipping paintings.
Tet-themed paintings which have long been a fixture of locals' celebration of the holiday, are typically in flamboyant colors and feature diverse topic matters in dexterous brush strokes.According to archival documents, the country boasts many folk painting villages and schools.
In a folk painting, the deities are large and take the upper positions, the ordinary people are drawn on a smaller scale and the size of the animals as well as the natural scenery are depicted depends on their relationship to the sentiment or expressed story. These unique characteristics make the paintings profoundly impressive. With color as red as peony, as yellow as ripe paddy, as green as a young rice plant, the images have by themselves the taste of rural areas in all their characteristic rusticity.
The most long-standing and popular are Dong Ho woodblocks and Hang Trong and Kim Hoang paintings from the northern province of Bac Ninh and Hanoi, and Nam Hoanh and Sinh village paintings from Nghe An and Thua Thien- Hue provinces in the central region. They can also feature landscape, flowers, goats and calligraphy at the same time.