(Cinet)- Mid- Autumn Festival is one of the most popular festivals in Vietnam. It is held on the 15th day of the 8th lunar month. The festival is considered Tet Trong Trang (moon looking festival) of children. It is a date that the moon is at its fullest and roundest. The traditional food of this festival is the moon- cake.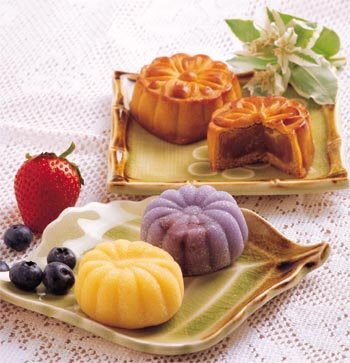 The festival is celebrated on the 15th day of the eighth month in the lunar calendar, which falls in mid September in the Western calendar. It has evolved into an event with both cultural and commercial value.
Mid-Autumn Festival parties in the evening are a good opportunity for children to enjoy the festive food and also learn things from their parents such as how to make the party attractive. The whole family will enjoy the feast in a cozy, sacred atmosphere.
Banh Trung Thu (mid-autumn cake), boxes of moon cakes, which are traditionally very rich in taste. The cakes are filled with lotus seeds, ground beans and orange peels and have a bright yoke in the center to represent the moon. "Banh deo" is the white cake, made of sticky rice and filled with sweet mixture of lotus seeds, pumpkin seeds or green bean. "Banh nuong" is the brown cake and has salty taste with a mixture of egg, pork fat, fried onion, peanut and lemon leaves inside. Both can be in round or square shapes.
Mooncakes filled with lotus seed paste are an indispensable delicacy for this festival. For generations, mooncakes have been made with sweet fillings of nuts, mashed red beans, lotus seed paste or sweet bean paste, depending on the region. Sometimes a cooked egg yolk can be found in the middle of the rich tasting dessert. Today, mooncakes may be filled with everything from dates, nuts, and fruit to Chinese sausages.


Vietnamese mooncakes are typically square rather than round, although round ones do exist. They are offered among friends or at family gatherings during this festival. The cakes are usually cut into small wedges and eaten accompanied by green tea because they are so sweet.
Nowadays, many kinds of mooncakes are on sale for a month before the Moon Festival. The cakes are very eye-catching because they are all wrapped in colourful boxes of various sizes, from small to large. It has become customary for businessmen and families to present these cakes to their clients or relatives as an expression of their sentiments. People buy mooncakes as gifts for friends, colleagues and relatives to demonstrate that they are very happy in life.