(Cinet)- An international fashion week will be held in HCM City on December 1-6 with many world –renowned fashion designers showing off their collections along with their Asian and international counterparts.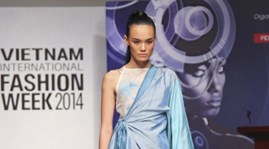 Works of famed fashion designers Antonio Grimaldi from Italy and Livia Stoianova and Yassen Samouilov from France will be featured at the event.
Korea's Zio Song, governor of the Asian Couture Federation and renowned menswear designer, will present the closing show.
Frederick Lee of Singapore and Nguyen Cong Tri of Viet Nam will also showcase their latest collections alongside invited members Tamae Hirokawa (SOMARTA) of Japan, Roj Singhakul (ISSUE) of Thailand, and Tsolmandakh Munkhuu (Tsolo Munkh) of Mongolia.
Frank Cintamani, chairman of FIDe Fashion Week, which is organising the event, said that he hopes it will provide an opportunity for the world to discover the creativeness of young and upcoming talented designers of Vietnam.
We hope the event will be a breakthrough to elevate Vietnam's fashion industry to a new height, Cintamani said
Representing Viet Nam will be eight other talented designers – Adrian Anh Tuan, Chung Thanh Phong, and Thanh Nga.
Le Thi Quynh Trang, founder of Multimedia Joint Stock Company, said: "The event will be a unique showcase of the exceptional design talent that exists in Viet Nam.
The recognition of the artistry and workmanship of our designers will be brought to new heights by placing them on a truly international platform."
Emily Hwang, Vice president of the ACF, said the rapid growth and expansion of Viet Nam in recent years and the opening up of its fashion industry made it a very attractive market for designers.
Co-organized by FIDe Fashion Weeks, Multimedia Joint Stock Company and the Asian Couture Federation, it is supported by the ACF and French fashion school Atelier Chardon Savard. The event will last until December 06.