(Cinet)- Hue Festival is the first Vietnamese contemporary festival which is developed base on the new concept of the festival. This is not only the place where programs with rich artistic and represent many cultures around the world, the Hue Festival also contributes to promoting and spreading Vietnamese elite culture.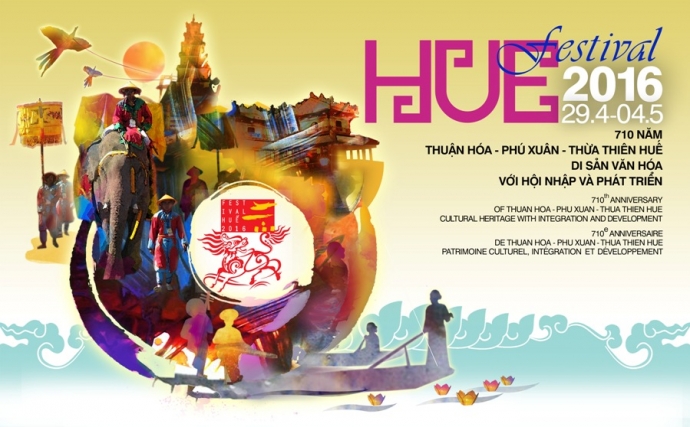 Hue Festival 2016: Promoting and diffusing Vietnamese culture
Hue Festival, the brand is confirmed
Since 1998, People's Committee of Thua Thien - Hue Province with the cooperation and support of the French government, the France Embassy in Vietnam, the direct help of the Ministry of Culture and Information, the General Department of tourism, Ministry of Foreign Affairs and other ministries and departments have officially proposed to the Government to allow Thua Thien - Hue Hue festival 2000 - a festival of arts and culture, tourism at national scale the first international one in Vietnam.
After the success of Hue Festival 2000, Hue Festival 2002 continues to be held with the cooperation between Thua Thien – Hue province and the France Embassy, with the participation of the ASEAN countries and partners from China, South Korea and Japan, which created a significant fame at home and abroad, and served as the basis for the government to allow construction in Hue city to become Vietnam's significant festival city and continue to organize international festivals once every two years.
Based on the culture and heritage foundation of the ancient capital region, which is distilled essence of the Vietnamese culture, mixed with the harmony between tradition and modernity, the Hue Festival is confirming its position; and is also being expected to become an unique tourism product of Hue.
Hue Festival 2016 to promote image of Hue land
The 9th Hue Festival entitled "710 years since the founding of Thuan Hoa-Phu Xuan; cultural heritage with integration and development" will take place from April 29 to May 04, 2016.
The festival will gather artists from 18 countries with France playing as the main partner. It will also highlight the province's cultural heritage in the development and integration process. With an aim to uphold traditional values and showcase modernity, Hue Festival 2016 will focus on events in which both people and tourists can take part in and enjoy, according to Nguyen Dung, vice chairman of the provincial People's Committee.
Besides, the festival is also a combination of traditional culture, art and tourism activities with great attractions and high community orientation, which will contribute to promoting local socio-economic development, including: Royal Night, Orient Legends, beer carnival, international food festival, old car exhibition, ancient village festival in Phuoc Tich Village, traditional boat race on Huong River and kite festival.
The troupes include Guangdong Theatre from China, the Cancer band from Denmark, Michal Milczareck Trio from Poland, Della Mae from the US, Hallelujah from Israel, Germein Sisters from Australia and Yun Myung-hwa from South Korea.
The festival will include several exhibitions featuring cultural icons, traditional games, and specialties from many localities across Viet Nam, thereby providing tourists with a better understanding of the Southeast Asian country.
Beside attending the festival in the city, tourists can choose to enjoy sightseeing tours and eco-tours to discover local destinations such as Lang Co Beach, A Luoi mountainous region and Tam Giang Lagoon. It's an opportunity to promote an image of Hue - the cultural, heritage and tourism city, the Festival city of Viet Nam.
Domestic arts companies and street arts troupes will also bring interesting performances to this festival such as the Cleopatra belly dance group from Ha Noi, Giao Thoi band from HCM City and Viet Nam Circus Federation.