(Cinet)- Chau Van" (or "van" singing) is an ancient form of art performance that is featured with religious color. It originated in the Red River Delta of Northern Vietnam in around 16th century and widely spread to surrounding areas.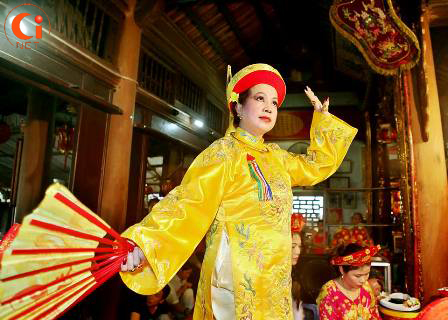 Chau van, also known as Hat van and Hat bong, originates from the Red River delta and mainly the northern province of Nam Dinh. It is a religious form of art which combines singing and dancing that is often performed in the Hau dong (mediumship) rite of the religion of the "Four Palaces" or the Mother Goddess and Saint Tran (Tran Hung Dao). The lyrics and verses of the songs in Chau van singing focus on extolling the merits of beneficent deities or national heroes. Therefore, the melodies are smooth and attiring and then quick, strong and joyful in the fuss of tambourine, castanets and cymbal noises that always give the performance an animated atmosphere.
Chau van singing consists of different forms, including Hat thi or Hat van (competition singing), Van tho or Hat tho (worship singing) and Van hau or Hat len dong (singing at the Hau dong rite).
Hat Thi (Competition singing) is often seen at competitions and only one person performs.
Hat Tho (worship singing) is the chanting accompanying an act of worship. Hat Tho is slow, grave and dignified. Variations in the music are few and contain little contrasting pitch and stress.
Len Dong is the cantilation accompanying psychic dancing claiming to respond to occult powers and expressing the will and orders of some super-natural being. It may contain many variations depending on the number of verses sung, often coming to a climax or slowing down to the tempo of a meditation.
The instrumental music is a key factor in Chau Van Singing. It helps either to emphasize important passages or to create contrastive effects. The main instruments that you normally see in one Chau Van performance are moon-shaped lute (dan nguyet), accompanied by a rhythm from the striking of a piece of wood or bamboo (phach), clappers (xeng), drum (trong) and gong (chieng). Also, the 16-stringed zither (dan tranh), flute (sao), eight-sound band (dan bat am) are sometimes used in the recitation of certain poetry.
Last year, Chau Van singing was recognised as National Intangible Cultural Heritage. It is seeking UNESCO recognition as intangible cultural heritage of humanity.