Costumes vividly reflect the weaving techniques, aesthetics, cultural characteristics, religion and beliefs of the Cham people. In the Cham society, each class has its own attire. The long dress of the Cham women is one of the most special.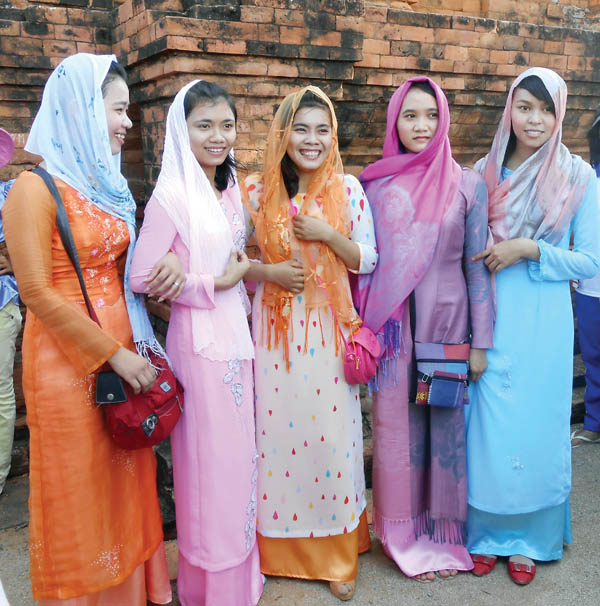 Cham girls in their traditional long dress (Photo: baoninhthuan.com.vn)
The long dress is called "Aw Kamei Cam" in the Cham language. Traditional materials for the long dress are chiffons, lace, and velvet. The Cham long dress is close-fitting and exquisite looking. Thanh Thi Diem Chau, an artist of the Cham Ninh Thuan folk troupe, told VOV:"I am very proud of my ethnicity. The Cham people's costumes vary by significance and social status".
The traditional Cham long dress is without split flaps or open front. The collar is in the shape of a heart or a circle. A dress whose length is slightly over the knees is called "Aw tah" and is worn by young women. The sleeves are tight while the body of the dress is a little bit looser. A dress which covers the ankles is called "Aw dwa baung" and close-fitting. Both sides of the waist are seamed with press-studs. Dat Chu, a Cham resident of Ninh Thuan, says the Cham women's traditional outfit includes an outer long dress, a long skirt, and a scarf:"These are 3 indispensable items of the Cham women's costume. The Cham wear a dress without split flaps because they think it makes their walk light, flowing and attractive. It is not easy to make the acquaintance with the Cham women, who are reserved and only express themselves through their eyes, lips and cheeks. A gentle glance or smile can replace a greeting".
The dress worn in daily life is called "Aw kauk" and the one worn at festivals is called "Aw xah". Traditionally, a dress was made from 7 connected pieces of cloth. Contrasting colors like white, black, red and yellow are used for sleeves, the upper bodice and skirt. Today, elder Cham women wear this type of dress to do farm work or house work.
Colorful and charming long dresses make the Cham women stand out in major festivals like the Kate New Year festival, the Ramuwan festival, weddings and the celebration of girls' reaching adulthood. The white dress is the sole option for attending religious mass. Truong Thi Hoang Phi, Head of the My Son art troupe in Quang Nam province, told VOV:"During festivals, the Cham women wear ceremonial costumes. During the Kate New Year festival, they wear a scarf and a belt. The traditional long dress is worn everyday".
Today, the Cham long dress is somewhat modified but still retains traditional features. The dress looks better with 2 intertwined embroidered cloth belts, heightening the seductive curves of the wearer's body.
Source: VOVWorld