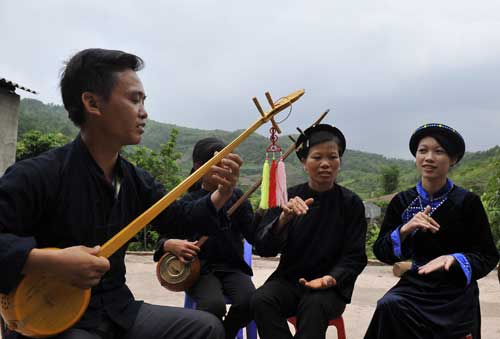 Illustrative image
(Cinet)- The San Chi have a treasure of tales, poems, songs, chants, and proverbs. "Sinh ca" is a typical singing genre in their culture. Young boys and girls sing love songs and chants back and forth for.
The San Chi lives scattered in Vietnam's northeastern provinces. They settle in hamlets in high mountains and depend on farming got their main income.
The San Chi grows rice and fruit trees and raise animals as their main income source. During lulls, they make wood furniture, weave bamboo products, and forge farm tools for their family and the local community. The San Chi raise pigs and grow cinnamon, acacia, pine, cassava, maize, and peanuts. We earn a living from farming and breeding and sell spare handmade products. We only sell locally and don't open businesses.
The San Chi have developed a rich cultural tradition with various types of folk arts. Singing is the best way for the San Chi to express their feeling towards other people and their views of the surroundings. The San Chi sing anytime and anywhere without any kind of musical instrument. They sing together through the night, when they go to the market, do farm work, welcome guests, and meet friends.
A "
Sinh ca
" singing session may take place over 5 to 7 days, from 7 pm to the next morning. Young boys and girls are divided into 2 groups. Each group has a leader who sings well and knows many songs.
During a session, they sing between 700 and 1,000 songs. "
Sinh ca
" is a love duet and only unmarried people who are not of the same blood can participate.
When spring comes, the cultural and sports festival of the San Chi ethnic minority group takes place in Tien Yen district, the northern province of Quang Ninh province. The festival also helped to improve ethnic people's awareness of preserving traditional fine culture and enriching the national culture.
The San Chi love singing and they have many folk songs about their customs, lifestyle, and work. They sing at wedding ceremonies, celebrations of longevity or flirting, and all other celebrations.
Lam Minh lives in Mong Cai, Quang Ninh province said: "Our ancestors created many folk songs. My parents could sing many songs. Sometime, villagers gather to sing through the night. When my brothers visit us, we sing all night."
Singing is a tradition of the San Chi which brings them closer to each other.