The Muong have a population of around 1 million who live mainly in northern provinces like Hoa Binh and Thanh Hoa. The Muong culture is related to Hoa Binh culture dating back more than 10,000 years.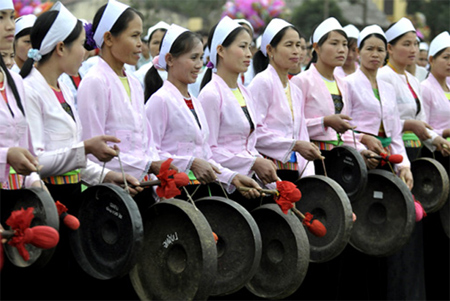 The Muong women wear traditional costume and play gong
The Muong share ethnic roots with the Vietnamese people and their language is classified in the Vietnamese – Muong language branch. The Muong live in mountainous areas which have abundant land for growing wet rice. In a Muong hamlet, stilt houses shelter in the shade of big trees, huddle against the mountain, and look out on vast rice fields. A Muong house is designed to maximize convenient use and air ventilation to counter the warm, humid mountain climate.
The Muong's costume is special. Men often wear a round-neck shirt which opens in the front and has two pockets. Their pants have large trouser legs. On special occasions, the Muong men wear a purple or yellow silk shirt inside a long, white ceremonial robe. Quach Van Suong of Vo Do hamlet, Nhan Nghia commune, Hoa Binh, said: "When we were small our elders taught us the typical cultural features of our group reflected in our costume. We like to wear our traditional clothes every day as well as at festivals. It's a way to preserve our culture for our children."
The Muong women wear a long, black dress and a white or brown shirt with a line of buttons in the front and long sleeves. They wind a white or indigo headscarf around their head. The highlights of the Muong costume are embroidery on the dress hem and belt. It requires skill and artistic talent to design the patterns and harmonize the colors of the costume. Quach Thi Lan of Nhan Nghia commune says there are 40 popular patterns, of which the dragon is the favorite image. "The most important step in weaving a dragon is to count the threads used to make the dragon head, wings, and body. We have to consider the position of each part and mix white, black, and red to make a soaring dragon."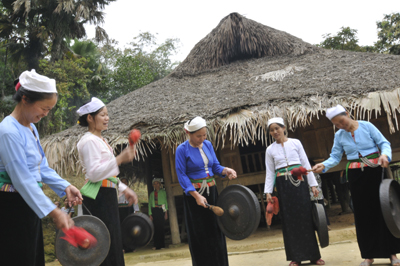 The Muong women in Hoa Binh play gong in leisure time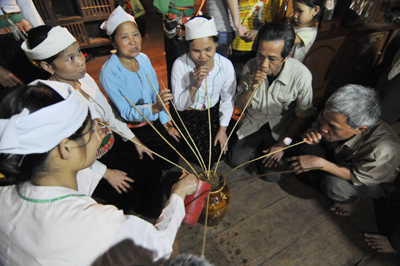 Drinking "ruou can" is a custom in many ceremonies of the Muong
The Muong have diverse folk arts including folk songs and poems, sorcerer's worshiping songs, tales, proverbs, lullabies, and riddle songs. The gong is the most popular musical instrument along with the flute, the two-string violin, the drum, and the panpipe. Bui Thi Xuan, a member of the Club for preserving the Muong culture in Luc Doi hamlet, said the Muong have folk songs for every event such as a house warming, duet singing in the spring, and long epics. "The Club is collecting old songs to teach the children. Young people learn songs to sing during daily activities or at a wedding ceremony. When I was young, we worked and sang songs all the time."
Source: VOVworld