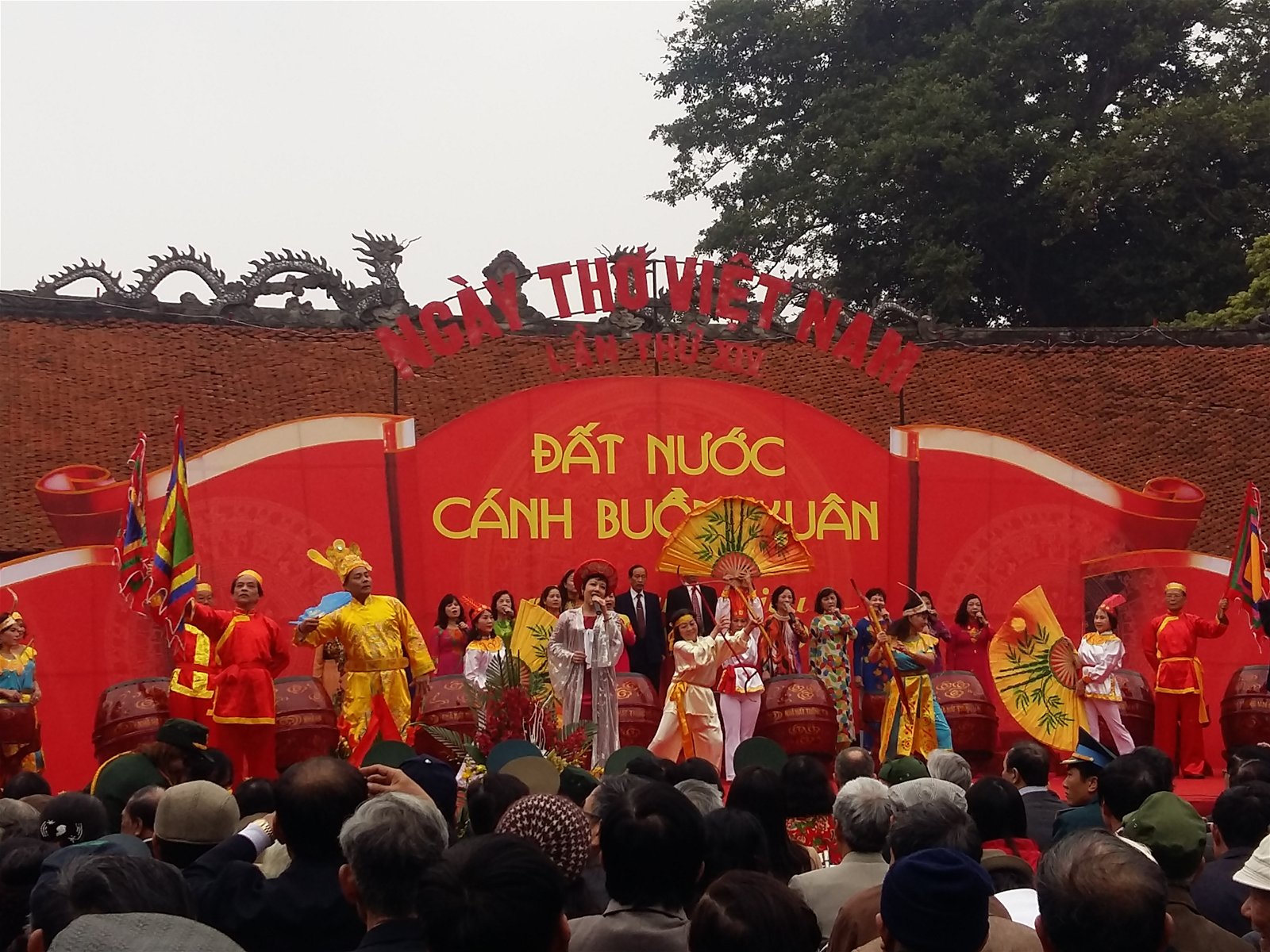 At the Poetry Day
(Cinet)- Every spring, Vietnamese Poetry Day becomes a gathering destination for some authors and readers and encouraged love of poetry for everyone. Vietnamese Poetry Day enhances a colorful cultural values of arts and literature.
Vietnamese Poetry Day is the festival to honour some achievements of Vietnamese poetry on the 15
th
day of lunar new year according to Decision of the Vietnam Writers' Association. The Vietnam Poetry Day was first orgnized in 2003 at Temple of Literature and continues to become the annual festival for the public nationwide.
Poetry nourishing Vietnamese people's soul
Up to now, poetry plays an important role as a spiritual food without lacking in life. By poetry, everyone can meet and exchange each other. Some authors and some members can participate into clubs to write poetry and give the poetry to the public. Many clubs and schools have opened and attracts a particition of some generations. Love of the poetry make a soul of people more loving and respecting in a society.Poems were also read by the children in traditional ways, as well as being mixed with music and illustrated with dance moves.
Nowaday, the country has developed and poetry love has promoted. Therefore, tens of clubs is organized and hundreds of poem is introduced to the public.
Vietnamese Poetry Day
Since its debut on Nguyen Tieu (the 15th day of the first lunar month) in 2003, Vietnam Poetry Day, the biggest poetry event in the country, has become a national spring tradition.
Starting out as an initiative from the Vietnam Writers' Association, Poetry Day has been organised in many provinces and cities to honour poetry, which has been an integral part of Vietnamese culture for thousands of years.
Being awareness of importance for poetry in life, Vietnam Poetry Day was organized and became cultural destination for the public in the whole country. In 14 past years, Vietnam Poetry Day has experienced various colors, however, an importance as an effort to introduce to the public. Up to now, the festival has fulfilled in orientation for diverdifying content and approach.
Vietnam Poetry Day is annually organized in a time which all provinces in the country can organize. The Festival aims to honour some vlaues of poetry and introduce temporary poetry in a progress of construction and protection of the country, contributing to build Vietnamese personality and soul.
The public not only enjoys some famous works of poem from some typical authors but also encourage readers to see, listen and exchange with some authors. The festival expects to connect modern and traditonal characters to bring a meaningful play yeard for authors and readers.
This year, the 14th annual Vietnam Poetry Day 2016, themed "Dat nuoc-Canh buom xuan" (Motherland-Spring Sail), officially opened at the Temple of Literature, Hanoi on February 22.
The event took place across three stages: the Van Mieu (Temple of Literature), Quoc Tu Giam (the First National University) and the Ho Van (Lake of Literature).
The day aims to promote the reading, writing, publishing and teaching of
poetry
throughout the world and, as the UNESCO session declaring the day says, to "give fresh recognition and impetus to national, regional and international poetry movements