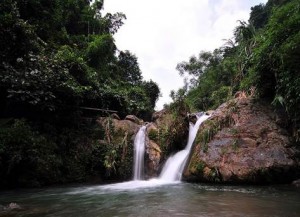 (Cinet)- Hoa Binh is a recognized tourism destination with a variety of landscapes. This is the homeland of the ancient Vietnamese people. Hoa Binh is the home of folklore and epics of traditionally culture. Belows are some suggested destinations for you when coming to Hoa Binh province:
1. Thung Nai ( Deer Valley)
Thung Nai is located in Cao Phong district, Hoa Binh province, more than 20km away from the center of Hoa Binh city. Thung Nai is an interesting destination of many young travelers who are interested in exploration and groups of visitors who want to experience on an ecological picnic at a rather low cost. From Hoa Binh city, you run along the Highway No.6 to the foot of the slope Cun (please note that you should go through the city then, do not go to the bypass -about 5km). At the foot of Cun slope, there will be signpost instructing the way to go to Thung Nai, it is more than 10km left from that point.
Thung Nai ( deer valley) is usually called "Halong Bay on land" and is the most beautiful and charming place of Da River. It is the perfect combination of river and mountains. "Thung Nai" name is set because the reason that the valley's ancient animals such as tigers, leopards, deer usually live here, in which primarily is deer. The valley was crowded with mobs of deer chewing grass in the hillsides. So the Deer Valley has gradually become the name of this land.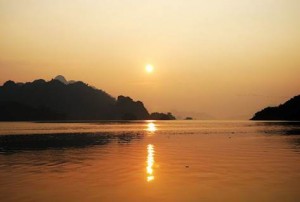 Romantic landscape in Thung Nai – "Halong Bay on land" at dawn
Nowadays, Thung Nai has not got any deer, however, Thung Nai captivates people by naturally wild beauty and the fresh air. The most beautiful scenery is the lake surface. The large surface of the lake is surrounded by mountains with many different shapes. The blue water reflects the white clouds. Hundreds of large and small "islands" which are in fact the mountains and hills flooded when preventing the Da river to supply for hydropower factory.
2. Tien Phi cave
Tien Phi cave is located at the top of Thuc Hill (also called Thung Phi Hill) belonging to Gai village, Hoa Binh city, Hoa Binh province. The name "Tien Phi" derived from the stalactites band in the shape of a beautiful fairy flying that the visitors can see right on the wall when entering the cave gate.
The cave is divided into two sections – the outer section with 15m in length, 8m in width, 20m in height. In the cave, there are many rough and rocky slopes in dark and dry yellow background land. The walls and vaulted ceiling with stalactites, stone patterns, offset edges, all create various funny and very lively picture. This section has a structure of a tall and airy castle, very quiet, but virtual.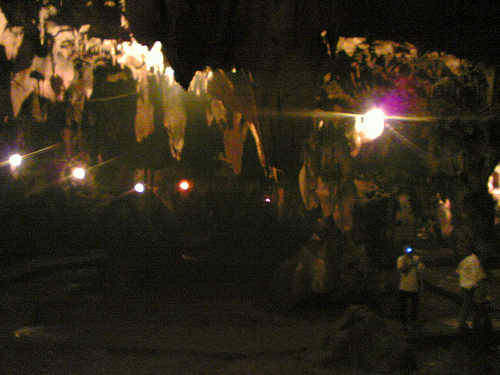 Inside Thien Phi cave
The inner section with 53m in length, 20m in width, 10m in height. The inner cave is fairly flat, dark yellow ground is dry, sometimes humid because water drops down from the roof in a small ceiling. The way is easy and airy. Under the light, you'll be immersed in contemplation of the natural beauty of rocks in a fairyland.. Going inside, you will see more strange stone looks like the silhouette, tree, flower cluster… All like the garden of the ancient kings.
At the end of the cave there a semicircle clear water well with 3m in width, 30cm in depth. Tien Phi cave is a masterpiece that nature created and given to Hoa Binh. The cave captivated many tourists who do not want to end soon the trip to the fairytale land of Muong ethnic minority.
3. Dam Da
While such names as Hoa Tien cave, Tien Phi cave, Mai Chau valley, Hoa Binh hydroelectric dam are tourists highlights, Dam Da seem to be an obscure historical site. Dam Da is located in Phu Lao commune, Lac Thuy district, Hoa Binh province
While such names as Hoa Tien cave, Tien Phi cave, Mai Chau valley, Hoa Binh hydroelectric dam are tourists highlights, Dam Da seem to be an obscure historical site. Dam Da is located in Phu Lao commune, Lac Thuy district, Hoa Binh province.
Dam Da is actually a vast complex of temples, pagodas and caves in the district, including Trinh temple (also known as Quan Trinh), Mau temple, Tien pagoda and etc. The temples and pagodas here are closely related to legendary characters in Viet Nam's history such as Au Co mother, Lac Long Quan Father, Hoang Bay Mandarin and Tam Toa Thanh Mau. In Tien cave and Ho cave (other name: Nguoi xua cave), archaeologists have found traces of ancient people, contributing a great deal to the historical study. Now Tien pagoda has received national recognition as a historical cultural site and it is attracting many visitors to come here for sightseeing or worship.
Apart from historical and cultural values, Dam Da is marked by its natural spectacular caves. There are Tam Toa cave, Thuy Tien cave, Cung Tien cave, Hoang Muoi cave, Co Chin cave etc. One will find it extremely difficult to list all the caves here. When coming into each cave, tourists will be totally taken by surprised at the gigantic and illusory stalagmites and stalactites.
Dam Da is most crowded in spring, particularly from January to March when there is Chua Tien festival. It is also convenient for tourists to visit Huong pagoda nearby – a famous attraction in My Duc district, Ha Noi.