Phú Quốc Island is not only famed in Việt Nam for its heart-rending beauty but also its cuisine, ranging from fish sauce and herring salad to bún kèn (traditional noodle soup), which has been eaten on the island for hundreds of years.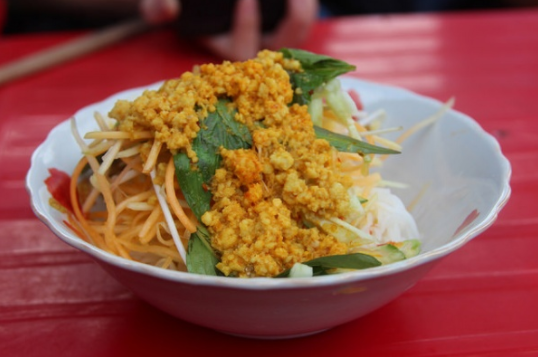 A bowl of tasty and delicious bún kèn Phú Quốc. — Photo dulichphuquoc.com
Chef Phạm Tuấn Hải, who was a judge of Việt Nam Master Chef, said compared to
bún kèn
in Cần Thơ, where the dish's broth is cooked from snake head fish, the dish in Phú Quốc is made of
cá ngân
(yellowtail scad), which is much more fragrant and tasty.
The main ingredients of an aromatic flavoured broth pot (locally known as
nước lèo
), include coconut juice, ground
ngân
fish and curry and five-spice powders.
The mix is cooked until it becomes viscous and yellow, said Hải, noting that noodles for
bún kèn
are thinner threads compared with others.
The chef said when visiting Phú Quốc he often enjoys the dish at the famous restaurant of Út Lượm, whose real name is Nguyễn Thị Lượm, who has made the dish for nearly 40 years.
He recalled that over the past 12 years, he was invited to the island to work as a head chef for a restaurant.
"I asked a local about Phú Quốc speciality and he immediately told me that I should try Út Lượm's
bún kèn
to enjoy her tasty and special flavoured dish."
Hải said when he arrived at the shop, it was full of diners.
"I had to wait for some 10 minutes but it didn't matter because it was a good time for me to witness the seller's action as an artist by quickly putting fresh noodles into the bowl, topping it with papaya salad, basil, green bean sprouts and several spoonfuls of sweet and sour sauce before pouring
nước lèo
into the bowl."
He said he was so busy watching Út Lượm's 'performance' that he didn't realise it was his turn to get a bowl.
"I was so impressed with my
bún kèn
bowl which had a colourful mix such as the green of basil, the ivory of fried salted shredded fish meat, the yellow of the broth and the white of the noodles, creating a perfect and delicious dish.
"From the first bite, I could enjoy the fat of the coconut juice, the rich sweetness from
ngân
fish and spicy chili.
"I felt as if I was unable to leave the shop although I was full."
Hải added that although he was high-grade professional chef cooking many dishes, he had never enjoyed such an aromatic dish before.
A visitor named Nguyễn Văn Lợi, who sat next to Hải, said he could eat three bowls without being satiated.
"I can eat the dish instead of daily meals for several days in a row.
"I often come here to enjoy the dish whenever I have a chance to visit Phú Quốc," Lợi said.
The seller Lượm said her skills were handed down from her mother who told her to preserve the dish as the pride of the island.
She said there were a dozen shops selling the dish but her spot was most popular.
Asked about her secret, she said she uses local ingredients, such as fresh fish from the island's sea, fresh basil from her garden and the recipe from her mother.
"Many visitors have asked me for a recipe but they told me that they could not make it like mine," Lượm said, noting this was because they used different materials.
"Despite this, I want to give my recipe to anyone who is interested in the dish. Chef Hải told me he would try to cook the dish in HCM City and make it become a popular dish so people, including foreign tourists and travelers, can try it."
Most households in the island know how to cook the dish and make it at home on the weekend or for parties and anniversaries such as
Tết
, Lượm said, adding that the dish is not only tasty but also helps you cool down in the summer.
Source: VNS