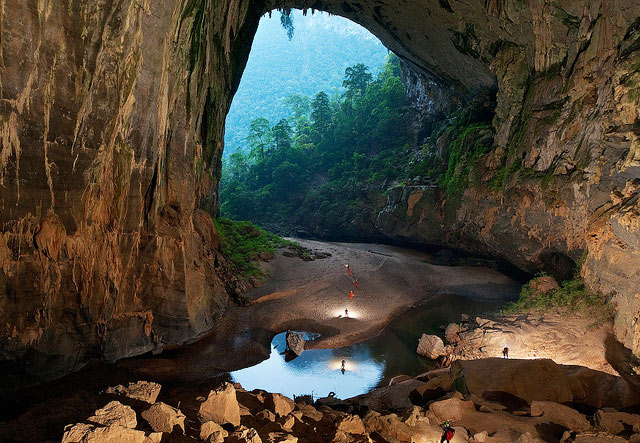 Illustrative image
(Cinet)-

The Son Doong cavern system in Quang Binh Province aired on ABC at 6 a.m. Eastern Time in the US, which is 6 p.m. on May 13 in Vietnam.
Located in the heart of the Phong Nha Ke Bang National Park in Vietnam's Quang Binh province, Hang Son Doong, although first found by a local in 1991, was only explored in 2009 by a team of British cavers. Son Doong cave system is a solutional cave in Phong Nha-Ke Bang National Park, Bo Trach District, Quang Bình Province, Vietnam.
The cave, which goes through a mountain for 1,645 meters, has been named one of the most captivating caves on earth by National Geographic. It is a feeder to Son Doong, named the world's largest cave thanks to British explorer Howard Limbert team's excavations, following a local man's discovery.
Son Doong Cave is in the heart of the Phong Nha Ke Bang National Park in the Quang Binh province of Central Vietnam. Only recently explored in 2009-2010 by the British Cave Research Association, the cave has only been open to the public since 2013. Since then, it has slowly been gaining world-wide attention. A recent video of a drone exploring the cave which went viral has further brought the cave into the spotlight.
Oxalis, the sole tour operator for Son Doong Cave, was chosen to provide logistics support for the film crew.
The first expedition had been halted by an 80m high calcite barrier, which was jokingly dubbed the 'Great Wall Of Vietnam'. At over 5km long, with sections reaching up to 200m tall and 150m wide, Hang Son Doong is large enough to house an entire New York City block, complete with 40 story skyscrapers. With a total measured volume of 38.5 million cubic metres, this comfortably surpasses Deer Cave in Malaysia, which was considered to be the previous record holder. Stalagmites up to 80m high have also been surveyed, the tallest every encountered.
Last month, representatives from Good Morning America and the government of Quang Binh Province reached an agreement on the live broadcast.
Television crews are to begin assessing the caves with Oxalis Adventure Tours, the agency which began tours of the massive cave in 2013, shortly, with the live broadcasts expected to occur sometime in May 2015.
It will the first live feed from the Southeast Asian country for Good Morning America, the number one morning show in the US.
The program is expected to also feature the Son River in Phong Nha-Ke Bang National Park and Ha Long Bay.
Viewers in Vietnam will not be able to watch the show live, but can still enjoy its re-broadcast on ABC's website, at abc.go.com.