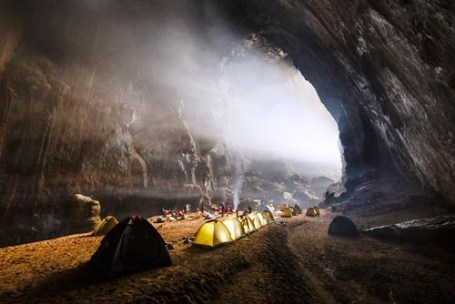 Vietnam's Swallow Cave
(Cinet) - America's Warner Brothers films (WB) has revealed the trailer of Pan, an animated fantasy-adventure film, on Youtube which features scenes of Vietnam's Swallow Cave (Hang En), the third largest cave in the world.

In 2014, a team from US-based Warner Brothers, had surveyed a cave at the Swallow Cave complex, in Quang Binh province, to select scenes for the film.

The team used aerial and remote-controlled drone cameras to calculate the shots which needed to be taken inside the cave.

In these impossible shots, the film's protagonist Peter Pan through the beautiful grotto, over magnificent mountain ranges, and across lush forests in the park.

Peter Pan is a
1953
American animated fantasy-adventure film produced by
Walt Disney
and based on the play Peter Pan, or The Boy Who Wouldn't Grow Up by
J.M .Barrie
. The film was entered into the 1953 Cannes Film Fesitval. The film is one of the most comercially successful Disney movies, as well as one of the most popular.
The film is scheduled for release on July 21, 2015.
Hang En (Swallow cave) is located in Son Trach, Bo Trach District, Quang Binh province, Vietnam. It takes explorers 5 up to 6 hours of walking through a 9 kilometer long forest path from Truong Son Highway to reach the mouth of Son Dong cave.
It's paradoxical that few visitors know the site. The Swallow Cave is 1.645 m long and has three mouths. One is halfway up a mountain and two others are located on another mountain which has its foot on the south-east and north-west alongside Rao Thuong Stream. All of these make the cave different from other well-known caves in the country.
From Hang En, it takes only two hours to search Son Doong – the biggest cave passage, voted last May by National Geographic Magazine as one of the most beautiful photos. This is the best tour in Phong Nha – Ke Bang.