(Cinet)- Known as a dynamic and friendly city, also an important economic, cultural, educational, scientific and technological center in the South in particular and the whole country in general, Ho Chi Minh City is located in the heart of Southeastern and Southwestern regions, as the most populated urban area as well as plays the economic leading role of the country.
Ho Chi Minh borders Binh Duong province in the North,Tay Ninh province in the Northwest, Dong Nai province in the East and Northeast , Ba Ria- Vung Tau province in the Southeast, Long An and Tien Giang provincies in the West and Southwest. The province covers an area of 2.095,6 square kilometres, and its population was 7.750.900 peoples (
according to statistic in 2012
).
Cultural Resources
Cultural Heritage
With the over 300 years of development, Ho Chi Minh city presents many ancient architechtural constructions,famous heritages and renowned sights. Currently, Ho Chi Minh city has 143 relics classified as historical – cultural relics, including one special national relic, 57 national relics and 85 city level relics.
Performing Arts
It can be said that Don ca tai tu is the "soul" of the southern cultural heritage. It is not only an art form which shows the cultural traits as well as the simple, friendly, generous and affectionate personality of the southern people but also has a high ability to attract and connect the community, so it always has a strong vitality and exists immortally with the cultural life of the nation.
Besides, there are other types such as: drama, puppetry water, ect.
Destination
Ho Chi Minh is the big tourism center in Vietnam, attracting a large of visitors to Vietnam. Ho Chi Minh City has various attractions as Ho Chi Minh Museum, formerly known as Dragon House Wharf, Cu Chi Tunnels, system of museums, theatres, cultural houses… Recently, many tourist areas are invested such as Thanh Da, Binh Quoi Village, Dam Sen Park, Saigon Water Park, Suoi Tien, Ky Hoa…, which draw numerous tourists.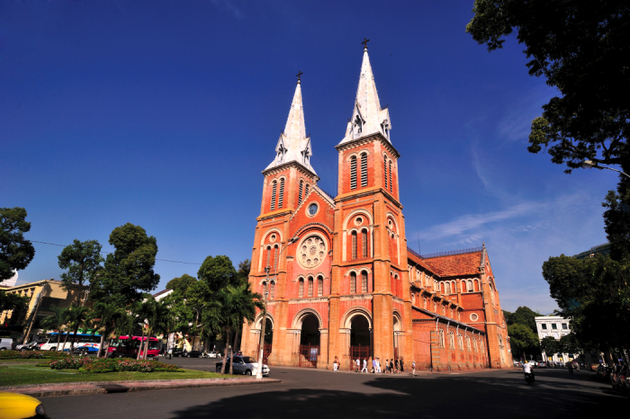 Ho Chi Minh City has various attractions
Despite its quite recent past, Ho Chi Minh City nevertheless possesses various beautiful buildings, displaying a characteristic combination of Vietnamese, Chinese and European cultures. These include Nha Rong (Dragon House Wharf), Quoc To Temple (National Ancestors Temple), Xa Tay (Municipal Office), Ho Chi Minh Municipal Theatre as well as many pagodas and churches .