(Cinet)- Ho Chi Minh City's annual spring flower festival will be organzied at Tao Dan Park and on Cong Truong Quoc Te Street from February 3-14.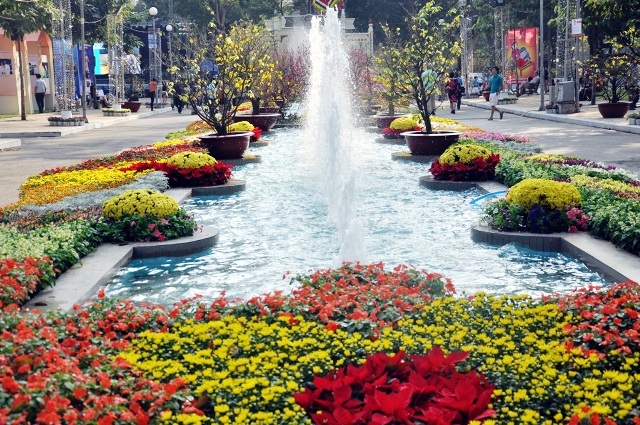 Illustrative image. Photo: 24h.com
The grand opening of the 2016 festival will take place at the round lake in front of the Hung King Temple at Tao Dan Park, one of the most charming destinations shaded by towering trees, nestled in the heart of the city.
The event runs from February 3, the 25th day of the 12
th
month in the lunar calendar which is five days before Tet, to February 14, or the seventh day of the Lunar New Year, said Tran The Ky, head of the festival's organizing board.
The flower festival, themed "Ho Chi Minh City – Peace – Prosperity – Development," will not only feature splendid and grand pieces of art, including exotic flowers, bonsai, rock sculptures, but it will also showcase some 3,000 floral exhibits from 20 southern provinces.
With 2015 marking the 20
th
year Vietnam became an official member of the Association of Southeast Asian Nations (ASEAN), there will be a special section at the festival to display photos from the other members of the ten-nation bloc.
Entrance tickets cost VND20,000 (roughly US$1) each, with free admission granted to children under 12, according to Ky.
The Lunar New Year celebration, which is deeply rooted in Vietnamese culture, is due on February 8 and it has myriad ceremonial preparations as well as festive exhibitions customarily ongoing one week before and after that date.
Besides the flower festival, Ho Chi Minh City will also open
128 small flower markets
and three major ones from February 1 to 7.
Nguyen Thi Thu, Vice Chairwoman of the People's Committee, described the festival as part of the city's special cultural identity and a traditional activity to welcome spring.
It also offers an opportunity for horticulturalists and artisans to engage in exchanges and showcase their works, contributing to promoting the land and people of HCM City.