With the theme "Cultural Heritage with Integration and Development", the Hue Festival 2008 promises to be a great, impressive, and attractive festival with hundreds of specific cultural and tourist programs aiming at enhancing unique cultural values of Vietnam and Hue Ancient Capital.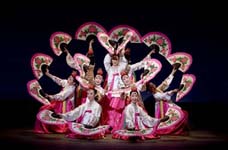 Hue Festival 2008 will continue to develop achievements of Hue festivals of 2000, 2002, 2004, and 2006 in the direction of improving its artistic quality and professional characteristic in order to highlight its position as a national center of culture and tourism, the city of festival of Vietnam. This will be an international cultural and tourist festival, a typical forum for art exchanges of regional and state level. Hue Festival 2008 is imbued with Vietnamese and Hue cultural identity, in association with the expansion of international exchanges, socio-economic development, and the promotion of Vietnamese tourism development.
Spotlight of the festival is an unrivalled space of Hue Citadel at night time with diversified art stages, magnificent Royal Palace by night, royal banquets and interesting royal games. In addition to the Citadel, the An Dinh Palace, Thuy Tien Lake, a vast collection of attractive places in Hue City and its vicinity will be venues for various imposing and exciting street art performances, folkloric playgrounds, gastronomy streets, and exhibitions of handicrafts, tourism, and trade fairs.
The Hue Festival 2008 will be officially kicked-off in the evening of June 3rd, 2008 at Ngo Mon Square and concluded in the evening of June 11th, 2008 on the Huong River. One month before the Opening Ceremony, the Festival will be warmed up with a lot of diversified and exciting festivities to welcome the Hue Festival 2008.
The Hue Festival 2008 brings together typical art performances of various Vietnamese cultural regions, particularly Hue Royal Arts, and cultural arts of countries worldwide (France being the main partner, and other countries including Australia, Belgium, Cambodia, Canada, China, Indonesia, Italy, Japan, Republic of Korea, Rumania, Switzerland, Thailand, UK, the US, etc.).
The Fifth International Sculpture Symposium will be launched on May 3rd, 2008 at the Abalone Resort. In addition, a variety of exciting and attractive festivities to welcome Hue Festival 2008 will be held throughout Hue City and its adjacent areas.
Hue Festival 2008 will continue to re-enact unique royal ritual ceremonies of Hue Ancient Capital at large scale, with high quality, and attractive performances which expects to bring together the participation of a great number of artists, actors, actresses, and the public. The extraordinary Ao Dai Grand Show will be among the most impressive events with the unsurpassed opulence of vibrant open-air stage of Hue's signature.
In particular, the enthronement ceremony of Hero Nguyen Hue, known as Quang Trung Emperor will be revived to commemorate the 220th Anniversary of his coronation, as well as the Examination of Military Doctors will be partially re-enacted. The cultural space of the Royal Tiger Arena (Ho Quyen) and the Temple of Elephant's roaring (Voi Re) will witness various unique cultural events, community and royal festivities for the public.
During the Hue Festival 2008, plenty of cultural and tourist fringe activities will be taken place, covering from the mysterious ancient capital of Hue to its adjacent areas, from royal palaces and tombs to ancient quarters of the city and traditional handicraft villages. Tourists will have the opportunity to experience the distinct lifestyles of Hue, the eco-tourist tracks, the exciting boat ride along the lagoon; to discover Hue's famous pagodas, or expose to traditional festivities and events; explore mysterious royal tombs and numerous romantic and spectacular places; enjoy Hue traditional cuisine and Hue's music aboard dragon boats drifting along the alluring river.
Source: Festival Hue 2008