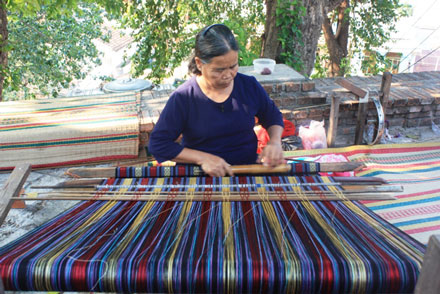 Illustrative image
(Cinet)- Brocade weaving is the one unique cultural feature of Bana. Their handmade products have elegant patterns and colors which reflect their rich culture and spiritual life.
Bana girls learn weaving from their mothers and grandmothers from the age of 12 or 13. They weave brocade fabric to make clothes, blankets, and carpets, and their own wedding gowns to show off their skills. The simple loom is made of wood.
The main colors are black, red, and yellow. Red represents fertile land and forests. Red is the color of love and aspiration. Yellow is the sunlight. The brocade of the Bana has bright colors reflecting their aspirations, dreams and artistic mind. They often create symmetric patterns to symbolize the universe, yin and yang, the earth and sky and nature.
The Bana have always tried to pass their traditional craft to the younger generation. But in recent years, the craft is at risk of being lost because a few young people practice the craft and the skilled weavers are getting older. The provincial authority has taken steps to promote the Bana weaving craft.
Besides, the image of Bana ethnic minority girls in traditional brocade outfits is fast disappearing in the southern province of Binh Dinh as the youth of today prefer modern western clothes to traditional ones. Ten years ago, there were about 20 Bana households in the two communes weaving brocade. Today, only five are left with looms.
Business between the mountainous regions and the lowlands had become easier in the recent years, making young people decreasingly keen on the local handicraft as cheap ready-made clothes were easily bought in local markets. Meanwhile, the integration into the Kinh people's lifestyle has caused the younger generations to shun traditional clothes.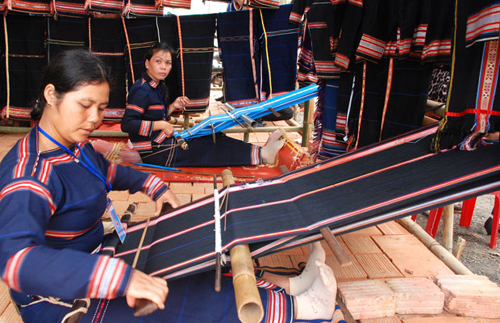 Illustrative image
Today, young people only wear traditional clothes when dance and perform at festivals.
Dinh Van Tuya, a teacher at Tran Quang Dieu Senior Secondary School, says he is ashamed as wearing a brocade before crowds.
"I am a teacher, I can't wear traditional clothes everyday because it shows a lot of skin. Ready-made clothes are more convenient, especially when I teach children and ride a motorbike," says Tuya.
22-year-old Dinh Thi Nhan is one of only two young girls in Dak Mang and Bok Toi communes who knows how to weave way as she's proud of this unique skill of her ethnic minority group. She was trained by her mother four years ago.
"I weave because I think it's the best way for others to recognise us," says Lac.
In order to preserve the local cultural character from being lost in the mists of time. The cultural sector has organized art exchanges and costume contests for ethnic groups to promote their unique cultures.