Enjoying a bowl of hot chao ca (rice porridge with fish) is a must on any trip to the Mekong Delta.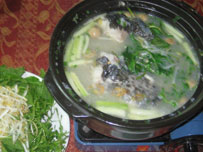 There are roughly a hundred kinds of chao ca cooked with different types of fish, seasonings and herbs. It takes a deft hand to give each bowl of porridge its distinctive flavor.
The most common chao ca dish is perhaps chao ca loc. Ca loc (Ophiocephalus maculatus) is a freshwater favorite among delta fishermen.
Chao ca can be found throughout the delta but ingredients and cooking methods vary from place to place. Here is a standard ca loc recipe:
Clean and boil the fish. Fish bones should be added to the broth to enhance the flavor.
Rinse, dry and roast the rice in a hot pan with garlic and onions.
Then add the roasted rice to the broth and cook until it becomes mushy.
The broth can also be made from blanching pork bones or ribs.
Remove the fish flesh from the bones in bite-size pieces and quickly flash-fry them.
In the Mekong Delta, people usually slice the fish at an angle so that it becomes tender quickly and mixes with the seasonings well.
A little strong fish sauce and pepper can be added to the fish after the quick fry.
Then steam the fish until it is cooked.
Sprinkled with green onions fried in lard before serving. The fish bites can be added to the porridge when it boils or when the porridge is served.
The porridge is usually accompanied with rau dang (a bitter herb) and bean sprouts and is topped with ginger and black pepper.
Rau dang purportedly lowers blood pressure and enhances respiratory activity.
The quality of the fish and rice, as well as the strength of the herbs and seasonings, play the most important roles in the dish's flavor.
Chao ca mu, which is cooked with saltwater grouper and high-quality tam (broken rice), is considered an "elite" delicacy in Kien Giang and Ca Mau provinces.
The fish's soft, sweet and tender flesh makes it tasty and expensive.
Source: Thanhnienonline