(Cinet)- Traditional Vietnamese cuisine from three distinct regions of the country will be featured at the upcoming Vietnam Ethnic Groups Cultural Day (April 19) celebrations at the Vietnamese Ethnic Groups Culture and Tourism Village in Dong Mo, Hanoi from April 15-20.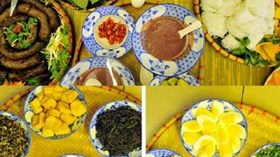 A wide variety of activities will be held throughout the week-long event at the Ethnic Cultural Day in Dong Mo, Hanoi.
The festival highlights a cuisine fair where different ethnic minority groups will feature their traditional Vietnamese dishes from three regions of the country.To attract more visitors, a traditional New Year festival - Chol Chnam Thmay – of the Khmer ethnic group will also be held in the village, with the participation of both local people and international friends from Sri Lanka, Myanmar, Laos, Thailand and Cambodia.
The Vietnam Ethnic Groups Cultural Day is held every April 19 to honor and uphold Vietnam's ethnic cultural values and help international visitors gain a better understanding of Vietnamese people and land.
Earlier, Minister of the MOCST decided to establish the Direction Board to organize some activities on 5 year occasion in Decision No.1668/QĐ- PM about the Ethnic Cultural Day on April 19 with 15 members in order to prepare for the event.