(Cinet)- "Bun cha", a Vietnamese dish which originated in the capital city of Hanoi, has been selected as world's best street food by the internationally-renowned National Geographic Travel website.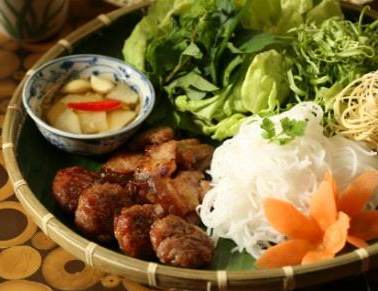 Vietnam's bun cha Ha Noi (rice noodles with grilled pork and meatballs) was among 10 dishes that were most cited by National Geographic's readers.

The selection was made based on some comments from National Geographic Travel's Facebook fans, who were asked to share the best lip-smacking street eats they've sampled around the globe.

Bun cha, which is popular in the Northern region of Vietnam, is served with grilled fatty pork (chả) over a plate of white rice noodle (bún) and herbs with a side of dipping sauce. Hanoi's first bun cha restaurant was oi Hoan Kiem District.

Besides bun cha, other types of street food that have attracted foreign visitors include "bacalhau" (fish with fresh bread and cheese) in Portugal; nasi lemak, a fragrant rice dish cooked in coconut milk and "pandan" leaf commonly found in Malaysia; and "balut" (a developing duck embryo that is boiled alive and eaten in the shell) in the Philippines. "Balut" is also called "hot vit lon" in Vietnam.
"Bun cha" is a Vietnamese dish of grilled pork & noodle, which is thought to have originated from Hanoi, the capital of Vietnam. Bun cha is served with grilled fatty pork over a plate of white rice noodle and herbs with a side dish of dipping sauce.