(Cinet)- 2013 Korean Food Fair under the sponsor of the Ministry of Agriculture, Food, and Rural Affairs of the Republic of Korea is hosted in Hanoi on September 26–29.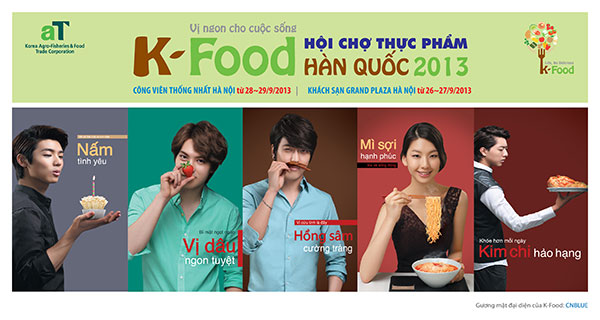 The fair features 30 Korean businesses, including four traditional food suppliers, eight health and beauty care producers, three fresh food suppliers, six drink producers and nine others. Not only introducing Korean food and kitchenware but the fair will be also a good opportunity for consultations and market research discussions between Korean and Vietnamese suppliers and consumers.
This fair is titled "K-food = High Quality and Healthy" and its slogan "Fun K-Food, Your Friend." It encompasses Korean and Vietnamese cooking contests, folk games of two countries, Taekwondo demonstrations, and traditional percussion, Kpop dance performances and fashion shows. The fair also aims at young consumers with outdoor stores "Fun Cafe & Street" to create open spaces to bring hi-quality Korean products into Vietnamese street culture.
It will open with a two-day B2B (business-to-business) conference at Grand Plaza Hanoi Hotel on September 26 and 27 with the participation of 30 RoK exporters and more than 80 businesses from Vietnam and other ASEAN countries. The conference is aimed at boosting the RoK's export of agricultural and aquatic products.
Besides public activities, the organiser also hosts a meeting with the participation of Korean producers and 80 importers from Vietnamese and ASEAN countries including Thailand, Indonesia, the Philippines, Singapore and Malaysia. A representative from the RoK Korean Agriculture, Food, and Rural Affairs Ministry said the Hanoi fair aims to connect with ASEAN member nation importers and distributors and reinforces cooperation between Vietnam and the Republic of Korea.
On the last final days of the event, a fair will be organised at Thong Nhat Park for local people to sample Korean food and drinks.