The Authentic Malaysia Food & Culture Week will begin in the capital city tomorrow, Sept 5, with food tasting and dance displays annually.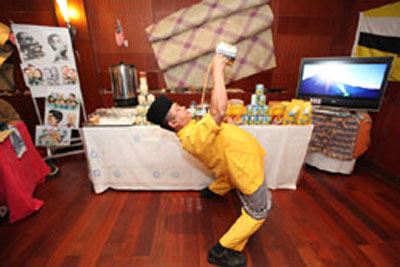 Food specialities will include satay (skewered and grilled meat), nasi lemak (rice cooked with coconut milk) and roti canai (Indian-influenced flat bread) prepared by two Malaysian chefs from Kuala Lumpur.
The event will take place at the Hemisphere Steak &S eafood Grill of Sheraton Ha Noi Hotel from September 5-9.
Dance events include Malaysian artists from different ethnic groups, including India, Chinese and Malay, perform folk dances outdoors from 4-6pm today, tomorrow and Thursday next to the Luc Thuy Restaurant at the corner of Hang Trong and Le Thai To streets near Hoan Kiem Lake.
A teh tarik (pulled tea) demonstration by Mior Sazali Bin Mat Ali, acclaimed as a "Teh Tarik Tourism Ambassador" will be held daily.
"It is not easy for tourists to have chance to enjoy a teh tarik demonstration by such famous artisan in Kuala Lumpur," said Malaysian Ambassador Dato Azmil Modh Zabidi.
The technique requires pouring a combination of hot tea and milk from one pot to another, aiming to mix it well and cool it, while dancing and performing acrobatic movements.
Hosted by the Malaysian Embassy in collaboration with the Malaysia Tourism Promotion Board and Sheraton Ha Noi Hotel, the week celebrates the 55th anniversary of Malaysia Independence on August 31.
Visit amthucmalaysia. vangxa.com or www. facebook.com/tourismmalaysiavietnam to receive 25 per cent discount vouchers for meals during the week.
Source: VNS