Tet dishes have special significance as they reflect the Vietnamese tradition of each family member expressing their personal progress, happiness and professional prosperity through the tray of dishes.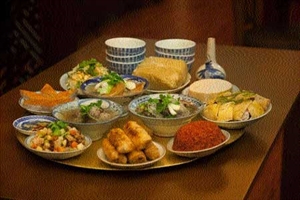 Illustrative image
But more importantly, children and grandchildren get a chance to sit with their parents and grandparents, no matter which part of the world they have returned from, and reminisce about old stories from their childhood and greet each other a Happy New Year.
Despite the festival of Tet (Lunar New Year) and its dishes holding such beautiful significance, its significance has somehow gotten lost in the modern times because many people, particularly the youth, have lost either their confidence or are too lazy to cook. They claim that everything is available in the market or can be delivered at their doorstep.
Nguyen Thi My, 72, in Hanoi's Old Quarter of Hang Dao Street, said "the Tet festival now is quite different from the one celebrated in the past. I am still unable to forget the old timey Tet. All families would be busy preparing dishes, particularly a tray of food for worshipping their ancestors."
"Except buying beef and pork pies and ingredients, such as green bean and pork meat to make banh chung (square cake), we cooked almost all the other dishes very carefully ourselves," My pointed out.
At present, very few people cook banh chung and traditional dishes, such as frozen meat or che kho sweetened porridge made from green beans and sugar and instead they buy these dishes in the market or supermarkets, she said.
"Although, I have tried to keep up with traditional cooking, it has been lost with the passage of time as all three of my married children buy many of the dishes, including banh chung from the supermarket for our Tet party," she added.
Bui Thi Hang, 68, in Hanoi's Hai Ba Trung District, agreed with My, saying she also liked preparing dishes for the New Year holidays and her family in the past because apart from enjoying the dishes, family members, some of whom visited from foreign countries, came closer to each other and understood their flesh-and-blood relationships and the values of life better.
Hang expressed her pity for the youth, who do not have a chance of seeing their parents or grandparents wrap banh chung or anxiously wait for a bit of leftover sticky rice to get the chance to wrap a small one themselves.
"These days it is so different from the past. My female friends and I were often asked by our parents to learn how to wrap and cook banh chung. Young girls now seem to forget to learn any domestic skills (housework, cooking or needle work). In fact, many of them do not know how to even to cook a traditional dish," Hang said.
Nguyen Phuong Hai, a food expert said he prepared Tet dishes very carefully, right from choosing the ingredients a month or more before Tet comes, and cooked real traditional dishes, served in eight bowls and six plates. "I always try my utmost to teach and urge my students to keep traditional Tet dishes alive by cooking at home," said Hai.
Meanwhile, a group of five from Switzerland, led by expat Vietnamese Duong Le Tinh, who arrived in Vietnam this week to tour the northern provinces of Cao Bang, Lang Son, Tuyen Quang and Ha Giang, had another choice.
They planned to welcome the New Year with traditional Tet dishes at Quan An Ngon in the capital.
Tinh revealed that immediately after their arrival, the group visited a shop, where they witnessed an artisan wrapping banh chung.
"The shop offered us six traditional Tet dishes served in six bowls. We enjoyed the cake, served with pickled onions very much," Tinh told Viet Nam News.
The traditional six "plates" or dishes are banh chung; pickled welsh onions; boiled chicken; pork paste; nem (fried meat rolls); and roasted pork with cinnamon.
The six big bowls, meanwhile, contain pig's trotters stewed with dried bamboo shoots; dried pig's skin; vermicelli with chicken tribe; chicken broth with mushroom and pork pie dumpling with spring onion; kohlrabi cut into pieces of 5cm with slice of griskin (pig fillet); and chicken simmered with lotus seeds.
Apart from these dishes, Tinh and her friends were also interested in different kinds of mut, or preserves, such as sugared ginger, durian flavoured coconut, peanuts and lotus seeds.
She said she would buy several boxes of sugar-coated coconut with durian flavour to take home for her mother and friends.
Her Swiss friend Andreas Palmieri said that he has travelled all over the world, but found Vietnamese food, particularly traditional Tet dishes, especially tasty and delicious.
"I'll invite my parents to visit Vietnam during the next Tet," Palmieri affirmed.
Source: VNA