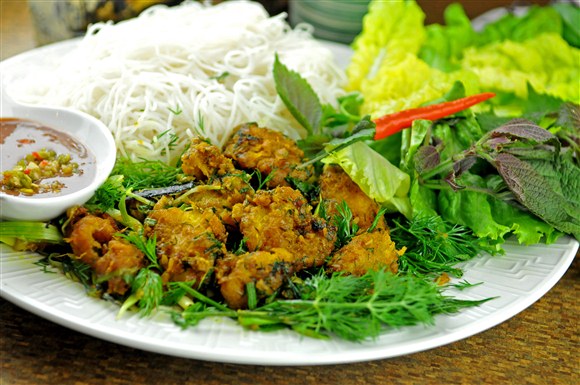 Grilled Fish
(Cinet)- Some dishes as Grilled Fish, Steamed Rice Pancake Rolls, Vermicelli and Grilled Chopped Meat, Plain Rice Flan, Steamed Rice Pancake Rolls, local people immediately think about old streets in the capital of Hanoi.
Cha Ca La Vong (Grilled Fish)
Cha Ca La Vong has long been a popular spot for Hanoians and foreign tourists. Locating at Cha Ca street, the restaurant is highlighted with a wooden statue of an old fisherman (La Vong) holding a fishing rod and a string of fish standing at the door. Entering inside, guests could experience an old space with wooden stairs.
Only dwarf catfish is ideal for the dish as its flesh is sweet and tasty, solid and fragrant. The fish must be carefully prepared before grilling. Galingale and saffron must be ground mixed with water and filtered through a piece of clean cloth in order to obtain a solution to which is added some drops of rice ferment and fish sauce of good quality.
Then, the fish meat is immersed in this solution for two hours before grilling. Grilling must be done by means of pairs of bamboo tongs placed on a stove of burning charcoals. The fish meat must be grilled on both sides and brought in to the guests when it is duly grilled.
Guests will be served a bowl of well - stirred shrimp paste sauce mixed up with lemon, decorated with a few slices of red fresh pimento, a plate of grilled ground nuts of gold yellow color, various species of mint vegetables o­nions in small white slices.
Bun Cha Hang Manh (Vermicelli and grilled chopped meat)
Would like to enjoy the delicious taste of Bun Cha dish, "gourmets" often come to Dac Kim restaurant at 1 Hang Manh, Hanoi.
Meat must be soaked carefully and grilled on charcoal, they often choose bacon and underarms meat. In addition, sauce is soul - deciding factor of Bun Cha: spices is mixed moderate, not too salty and too sour, squeezing a little more lemon which makes the sauce fragrant, add pickled papaya to harmony flavors with the grilled meat.
Banh Duc
on Le Ngoc Han street
"
Plain Rice Flan
"
"Banh Duc" is the rice cake made of rice flour and lime water. This dish on Lê Ngoc Han street is attractive with the good smell and good taste. The cake is aromatic by the flavor of fried onion, fish sauce, and minced meat.
Located at 8 Le Ngoc Han alley, 20 meters from beginning of the alley, guest will see a small old shops and it is quite uncomfortable with people who just like spacious and luxurious restaurants. However, the shop still attracts plenty of customers because the flavor of Banh Duc.
Clear soups with sour a bit create a good taste unlike greasy taste of rice cake in others. The rice cake is made quite smooth, soft but not too sticky, together with ground meat, black mushrooms, fried tofu which all are covered in a delicious soup.
Banh Cuon on Hang Ga street (Steamed Rice Pancake Rolls)
Banh Cuon is a paper-thin steamed rice flour pancake, much like delicate sheets of fresh rice noodles. The pancakes are plucked off of the linen steamer base, and immediately rolled with minced pork and mushrooms, then piled on a plate, sprinkled with deep fried shallots, snipped with scissors into bite sized sections, and topped with fresh herbs such as cilantro or Vietnamese basil.
The practiced hands keep the Banh Cuon rolling out with experiences, alternating seamlessly between spreading the thin batter on the linen base of one steamer, then at right time, turning to the other to peel the delicately steamed pancake off the linen base with a bamboo stick.
It's a dish that exemplifies perfectly the Vietnamese concept of flavour and texture balance – savory, sour, soft, crisp and herbal, particularly at 14 Hang Ga Street.