(Cinet)- A small Vietnam has attracted to international tourists by some amazingly delicious foods. Vietnamese cuisine can sometimes be discovered by the cheapest food that locals normally eat while sitting on small plastic chairs in the markets or on sidewalks.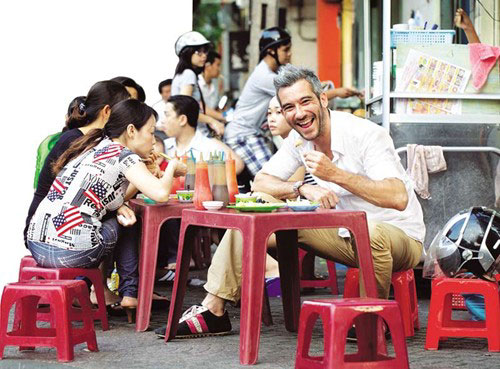 Mr. Mike Tatarski, a tourist having a couple of years with Vietnamese street food excitedly shared that street food was so simple that you entered into and choose a seat, generally a plastic chair without front door, no windows and any public walls, sometimes you would get stuck in a small chair designed for toddlers but used for adults to sit.One of the fun while enjoying the best food in a small store in Vietnam is observing rhythm of the locals' life.The voice of hawkers advertising their products has become a unique characteristic of Vietnam tourism. Its rhythms are like singing somewhat.
The food is very fresh and very creative, so every small challenge and trouble you might encounter in a small shop means nothing at all.
Jounal Travel Guide Lovelyplanet notes that Vietnamese street food is so attractive that it is listed in the top 10 culinary tour of the Jounal Travel Guide Lovelyplanet. The best and quickest way to explore cuisine of any city is taking part in a walking tour with a tour guide in which enjoying local specialties is indispensible. The journal also tends to Vietnamese specialties in such tours in Hanoi such as Pho bo (Vietnamese noodle with beef), Banh xeo (Vietnamese pancakes folded in a half), banh cuon (Vietnamese rolled cake) and Café Duy Tri at 43a Yen Phu Street.
In CNNgo, a prestigious US journal even emphasizes that the US has created portable restaurants but Vietnam is truly the heaven of food. There is nowhere else having such diverse culinary style like Vietnam. The Vietnamese are familiar with foreign tourists sitting on pavements, using chopsticks to enjoy Pho or bun cha (Vietnamese vermicelli and grilled chopped meat). Some culinary experts commented that Vietnamese cuisine attracts tourists by fresh flavor of vegetables, fruits and nuts. It is not as greasy as Chinese food, and less spicy than Thai food. In a magazine, the best and quickest way for you to explore the cuisine of a city is engage in a walking tour with a guide, in which to enjoy the local specialties is indispensable.
Many tourists to come Vietnam praised some Vietnamses foods and said " Vietnam- a cuisine paradise". From that, Vietnam became a destination that visistors is unforgettable. World-leading chef Gordon Ramsay also has a special love for Vietnamese street food.