(Cinet)- Thua Thien Hue's Department of Culture, Sports and Tourism has built Project "Building and managing cuisine cultural document of Hue" under association between Institute for Culture and Arts in the Central Vietnam and the Department.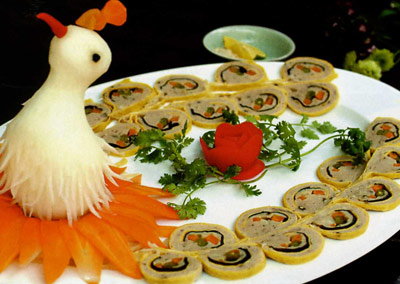 According to Thua Thien Hue City's Department of Culture, Sports and Tourism, the province will establish intellectual property copyright for 3-4 typical products including Hue bun bo ( a type of noodle); Hue "com vua"; building to create more trademark for a specialty about Hue "me xung" and Hue "ruoc".
Thua Thien Hue province has supported to registered overseas one-two products to form and develop some trademarks of specialty in locality to create more products in order to compete in domestic and foreign market.
According to Dr. Phan Tien Dung, a manager of Thua Thien Hue City's Department of Culture, Sports and Tourism, Hue ancient city comprises more cultural heritages, especially Hue cuisine in 1700 foods.
Hue traditional cuisine and Hue royal cuisine has similarities because the royal chefs also came from the folk. Besides the general characteristics of the Vietnamese cuisine, Hue cuisine brings different characteristics. Firstly, each meal includes fish, meat, vegetables… Second, it has art; the tray is always arranged carefully and coordinated the color of dishes in order to appeal customers. Thirdly, it has collective, all dishes are all presented in the tray. Fourthly, is has delicate and delicious, even vegetarian dishes and so as to attract guests, the Hue often named dishes with exuberant names.
Building and managing Hue cuisine culture aims to find some primary values of Hue cuisine, especially select some approaches to select food. ect.
Also, the project contributes to serve research and management to maintain and develop some values of Hue cultural heritage; increase more cuisine quality about tourism in people's life.