(Cinet)- Different from other kinds of glutinous rice cake, Hai Duong's Long cake has a light flavor, sweet-smelling, buttery and hot taste of puffed glutinous rice, ginger, roasted peanuts and sugar.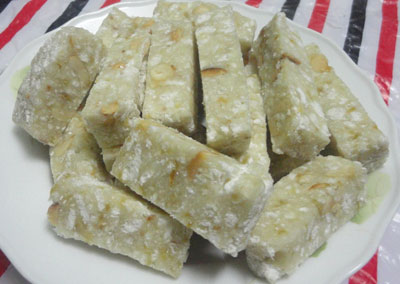 It takes a lot of time and energy to make Long cake. Boiled ginger syrup is poured into the basin containing mixture of peanuts and crushed puffed rice. All things then have to be stirred continuously and steadily until well kneaded. This step is very difficult but important. If you do not stir steadily and continuously, or if you pour too much or not enough ginger syrup, the mixture will be either dry or pasty, making it difficult to cast. Consequently, the finished cake will be so tough that you can hardly cut it into small pieces without a cleaver.
After that the mixture is cast in a big steel mould, and cake makers have to pestle continuously until the mixture is well kneaded and becomes a solid block. At last, finished cake is removed from the mould, covered with puffed glutinous rice flour for anti-stickiness, let cool and packed.
The cake made in An Phu is characterized by ground powder from puffed glutinous rice. Thanks to this fine powder, the Long cake of An Phu village is softer and not as thick as Long cake of An Sinh village. Besides, cake makers here also put in special ingredients, such as: sesame, cardamom, cinnamon bark, star anise, sweetened coconut and sweetened winter melon.
Based on each family's taste, people can put in more or less ingredients. Thus, it is hard to say which kind of Long cake, An Sinh or An Phu, is better. Long cake can be made at any time of the year, as a simple gift or snack food to offer guests together with a cup of warm tea.
Cinet/qdnd