(Cinet)- Some popular restaurants and hotels organized some vegetarian buffets and a la carte selections at the vegetarian feast on February 14, 2014 in Ho Chi Minh city.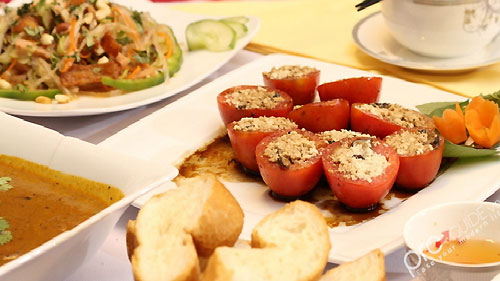 Vinh Nghiem Vegetarian Restaurant on Nam Ky Khoi Nghia Street in District 3, is a vegetarian buffet pioneer, which serves more than 400 different vegetarian dishes featuring natural produce and minimising oil in the interests of diner health.
Those who want to enjoy northern vegetarian specialties, they should come to La Tia To Restaurant in Phu Nhuan. The restaurant now provides such dishes on the 1st and 15th days of every lunar month.
The city's budget restaurants, tailored to the city's students, labourers, and office staff, also expand their vegetarian options, available for only VND20,000 per set.
La Tia To restaurant in Phu Nhuan District serves its 200 vegetarian northern regional specialties on the 1st and 15th days of the lunar month.
A diverse variety of vegetarian food—both fresh and frozen—is widely available. Famous brands such as Au Lac Company, Cau Tre, Vissan, and SG Food can be purchased at supermarkets, shops, and traditional markets across the city.
According to the city's agricultural wholesale market management board, fruit and vegetable prices tend to drop after the Lunar New Year festival, a trend very much appreciated by local vegetarians.