(Cinet)- An article on the American news website Huffington Post highlighted "cao lau," an iconic dish of Hoi An ancient town in the central Vietnam's Quang Nam Province recognized by the UNESCO.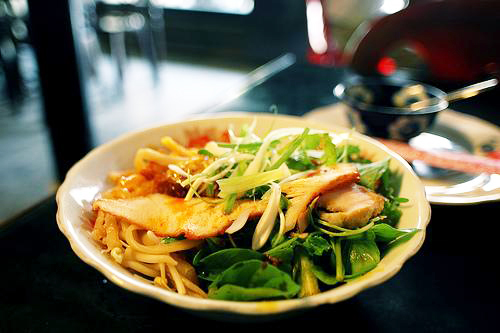 The article, titled "Cao Lau, One Of Vietnam's Greatest Culinary Treasures," was written by Alison Spiegel, the associate editor of the "HuffPost Taste" column. The author described the dish as one of Vietnam's most iconic dishes, as well as its most mysterious, as its recipe remains protected from outsiders.
"Cao lau" consists of thick rice noodles, pieces of barbecued pork, greens, and crunchy croutons.The freshness of the greens and bean sprouts, the crisp texture of the chewy noodles and thinly sliced meaty pork, and the crunch of the croutons, which are made from dried "cao lau" noodles, make a unique, beguiling combination.
The article also discusses some of the old town's other signature dishes, including "com ga," (a chicken and rice dish in which the rice is cooked in chicken broth and topped with shredded chicken), and white rose dumplings (shrimp and pork dumplings topped with crispy garlic).
In 1999, Hoi An was declared a world heritage site by UNESCO for being a well-preserved example of a Southeast Asian trading port from the 15th to 19th centuries, and for housing buildings with a unique blend of local and foreign influences. Since then, Hoi An has been voted one of the top tourist destinations in the world by several tourism magazines.
The author also dwelled on the legendary origin of the dish, as well as the tale behind the noodles."Cao lau" noodles are said to be made using only water from one ancient well in Hoi An, called Ba Le.The water is also supposed to be mixed with a specific type of ash to create a lye solution.
In October 2013, Hoi An ancient city was also ranked second on the Top 10 Asian Cities list by prestigious American tourism magazine Condé Nast Traveler.