(Cinet)- The US travel magazine National Geographic has informed Vietnam's savoury Chung (square) and Giay (round) cakes among the world's top ten traditional dishes.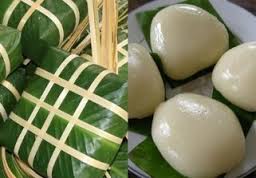 Chung (made of sticky rice, green bean, pork, and pepper) and Giay (made of ground glutinous rice) cakes are indispensable dishes during Vietnam's Lunar New Year celebrations. In Vietnamese culture, Chung cake wrapped in Dong leaves symbolizes the earth, while Giay cake symbolizes the sky.
Making Chung cake requires simple materials and ingredients which can be found in every market in Vietnam : glutinous rice, green bean, fatty pork spiced with salt, onion and pepper. All are wrapped in phrynium leaves before being boiled for at least 10 hours.
Giay cake requires a more complicated process. First of all, sticky rice is dipped in water and then steamed. Steamed sticky rice will be pounded in a mortar until it turns into a soft paste, which is then shaped into round.
Rounding out the top ten dishes are the bread of Mexico, Hakarl of Iceland, Mid-Autumn cake of China, Hamantaschen of Israel, King cake of the US, Sesan Burfi cake of India, Kahk Cake of Egypt, Haggis of Scotland, and cake for May Revolutionary Day in Argentina.