The 47th place on the Asia's 50 Best Restaurants List 2013 and the Best in Vietnam award have gone to Don's restaurant, headed by chef Donald Berger, in Ha Noi.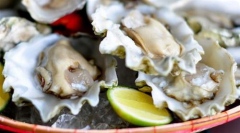 The list was published by the Worlds50best.asia in Singapore this week, and Don's restaurant, located at 16/27 Xuan Dieu Street in Ha Noi's Tay Ho District, was ranked in 47th place, followed by Fook Lam Moon in Hong Kong and the Imperial Treasure in Singapore.
Don's was chosen by more than 900 members, all of whom are food critics, chefs and restaurant managers, of the Diners Club International, due to its high quality of service and food.
Moreover, Don's provides customers with a variety of traditional Vietnamese dishes such as pho, banh xeo (rice crepe) and banh cuon (rolled cake), in addition to European and Asian options. On dons-bistro.com, the restaurant has pledged that it can satisfy all of its customer's demands through its large menu every day.
The top spot on the list went to Les Créations de Narisawa in Tokyo thanks to the special cooking style of its chef, Yoshihiro Narisawa, who combines French and Japanese cuisine.
Second place went to Nihonryori RyuGin restaurant, which is also in Tokyo and is run by chef Seiji Yamamoto. Third place and the Best in Thailand award went to Nahm in Bangkok and its chef, David Thompson.
Below is the list of the Top 10 Restaurants on Asia's 50 Best Restaurants List in 2013:

1. Narisawa - Tokyo - Japan

2. Nihonryori Ryugin - Tokyo - Japan

3. Nahm - Bangkok - Thailand

4. Amber - Hong Kong - China

5. Restaurant Andre - Singapore

6. 8-1/2 Ottto E Mexxo Bombana - Hong Kong - China

7. Mr and Mrs Bund - Shanghai - China

8. Ultra Violet - Shanghai - China

9. Iggy's - Singapore

10. Gaggan - Bangkok – Thailand
Source: TT