(Cinet)- The 2014 Southern Fruit Festival to mark the 10th anniversary of the event will take place at Suoi Tien Amusement Park, HCM City on June 01-08.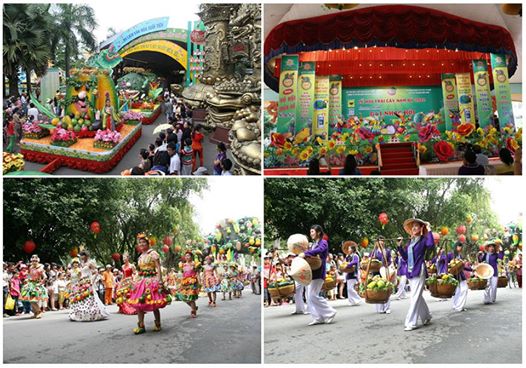 The festival will feature a wide range of activities including a 70-stall fruit floating market. The stalls are boats which offer more than 180 kinds of fruits which can last for over three months, at prices 20-40% lower than market prices. The festival will also feature Delicious, Safe Fruit, and Fruit Sculpture Competitions.
Domestic and foreign visitors will have a chance to enjoy the wide range of fresh fruit available in the southern region at the 2014 Southern Fruit Festival, held at the Suoi Tien Cultural and Tourism Site in Ho Chi Minh City from June 1 - 8
The festival will be highlighted a floating market with 70 booths featuring 180 different kinds of fruit grown in Vietnam, including Nam Roi and Tan Trieu grapefruit, Luc Ngan lychees, Cai Mon durian, Vinh Kim star apples, and Hoa Loc mangoes. The fruit will be on sale for 20-40% less than market prices. The festival collected over 1,000 types kinds of exotic and giant fruits from across the country, along with hundreds of artworks made of fruit that reflect the beauty of traditional cultures and the country's seas and islands, as well as national development and beautiful natural landscapes. There will also be a variety of art performances, including some by troupes from the US, Japan, Laos, Cambodia, Thailand, the Republic of Korea and India, a fruit cuisine contest and numerous folk games.
The event aims to honor achievements in agricultural sector of Southern and Vietnamese people and to promote as well as introduce the city's image to both domestic and foreign visitors.
Visitors can take buses 33 or 76 or ride their own bikes to Suoi Tien Amusement Park.