(Cinet)- Lang Co is the terminal land area of the Southwest on the map of Thua Thien – Hue province in which one side is the bank of white sand and the other is An Cu lagoon. The impression is that Lang Co is not only picturesque landscape but also gently-sloped seashore turning into an ideal beach. Furthermore, Lang Co is the home of many plentiful, valuable and rare products like shrimp, crab, cuttle-fish and arca.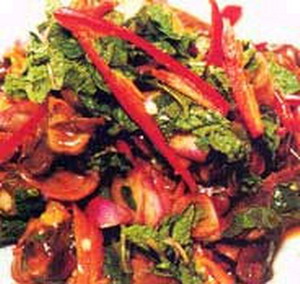 Like other shrimps, crabs, cuttle-fishes and arcas, these species in Lang Co is different from those in other locations. In these molluses, Lang Co arca is the most famous dish.
Lang Co arca has existed around the year. Turning the arca into arca paste is a creative process of the Lang Co people and nobody remembers from when the sauce-making trade existed. Making the arca paste is rather meticulous. The fisher rakes the arca; sauce makers surround the arca basin, take the sharp point of the knife to split the arca but not everybody can do so.
Before the use of the arca paste into the meal, people often mix such spices as acrid banana, fibre-sliced papaya…into the arca paste. The taste of the arca paste is sweet and delicious and it is getting sweeter and more delicious when being reinforced much fatty flavor of the pork.
Lang Co arca paste is a special food of the ancient land area. Tourists can buy the arca paste as souvenirs for friends and their relatives prior to climbing Hai Van mountain pass towards the Southern ward or after crossing the mountain pass into the North. Surely, it is a strange, delicious and nutritious dish used in the daily meals or parties or used as valuable souvenirs.
·