(Cinet)- Vietnam gastronomy festival 2014 is organized in Nha Trang by the HCM City-based EXPO International Trading Joint Stock Company and the Khanh Hoa Province's Culture, Sports and Tourism Department on July 01-06.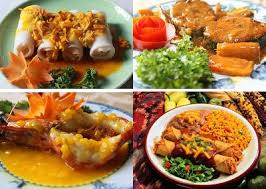 A wide range of activities will take place during the week-long festival, including a cooking contest, a fair of specialties of Vietnam's three main regions and a market selling Vietnamese typical food in the past and at present.
A gastronomy fair titled Huong Vi Viet (Vietnamese Flavour) will replicate the atmosphere of a rural market with bamboo stalls selling traditional dishes and fresh fruits.
The one-week event will also feature cooking demonstrations and showcase regional specialities, including cha ca La Vong (charcoal grilled fish) and green bean cake of the North; Hue-style beef noodle, mi Quang (crackle flat noodle) and Tam Ky chicken rice of the Central; and Sa Dec tapioca noodle and sizzling pancake of the South. A culinary contest gathers some professional chefs from three regions of the country at the festival.
The event aims to introduce the quintessence of Vietnamese food as well as the creativeness of Vietnamese cooks.