In the past each Vietnamese village would have had its own way of arranging a feast, but there were certain habits that were universal, many of which are still common today.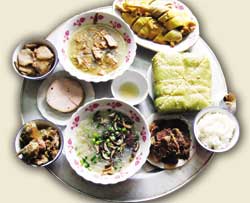 For example, each tray of food is never served to an odd number of people and everyone around the tray should be from the same age group and social background.
"In the past we never used tables. Tables were used for drinking tea afterwards. We would eat on beds or on a mat near the family altar to show our respect to our ancestors," says Vu Thu Hoi, an 80-year old retired chef, who lives in Nam Dinh province.

Vietnamese people often celebrate religious days, lunar festivals or commemorate the dead by organising a feast for the whole family and special friends.
You won't find everyday dishes such as rau muong or tofu at a feast. There will always be chicken and xoi (sticky rice) — at a funeral feast the sticky rice will be white but at a wedding it will be a brilliant red. You will also find processed pork and spring rolls as well as a soup of some kind.

As a wedding ceremony is a happy occasion there will be more of a variety of tasty dishes on offer. It is a tradition to serve ruou (rice liquor) rather than beer at most Vietnamese ceremonial feasts, although these days beer is often served at weddings.
Ceremonial feasts are prepared by the host family with the help of relatives, though in this day and age catering has become increasingly popular.

"Each cook has his own forte. I can kill a chicken with a sharp tooth pick, while my son can kill and shave a 70kg pig with a small knife and a pot of hot water," says Hoi.
The lavishness of the feast depends on the budget, but hired chefs always help families put on a good spread without wasting money. As with all Vietnamese meals the dipping sauces are indispensable. Every dish often needs to be dipped in a certain sauce before being eaten.

For example, chicken is dipped in lime, salt and chilli, spring rolls in fish sauce and duck in soy sauce with ginger or chilli. Fresh herbs are also an important part of Vietnamese meals with basil, mint, marjoram and cilantro used to add texture and flavour to certain dishes.
As ever the feast will be a lively one. Vietnamese people love to gather to chat and eat in large groups whether the occasion is a solemn or festive one.

Traditionally, after dinner men drank tea and smoked a cigarette while the women enjoyed some betel and areca. Then the hosts would present the guests with a gift of food or fruit to take back home to their children or relatives. This way no one feels left out.
(Source: Timeout)