(Cinet)- The International Gastronomy Festival was s an ongoing biennial cultural event Hue Festival 2014 to taste some foods served by top chefs at a side event on April 15.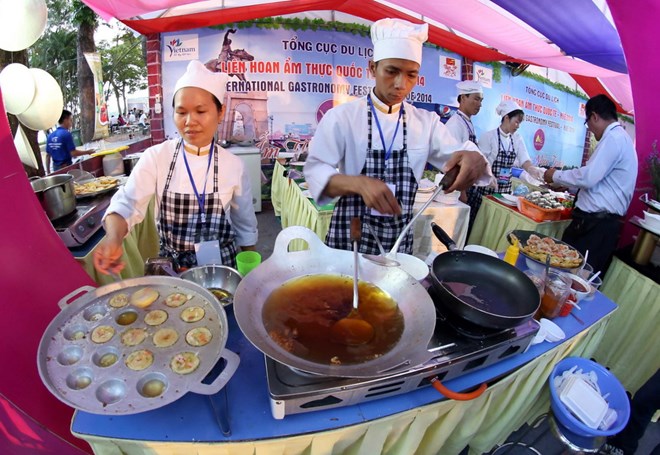 The festival could be more correctly called an Asian food festival because it features 70 stands offering food from South Korea, Cambodia, Laos, Singapore, Myanmar and Malaysia.
Addressing at the festival, Mr.Nguyen Van Tuan, head of Vietnam Tourism Administration said that the festival was an occasion to showcase Viet Nam's finest cuisine to foreigners as they come for the Hue Festival. The participation of chefs from other Asian countries would be an opportunity for their Vietnamese counterparts to see where their food fitted in.
Visitors can have meals at the stalls or buy take-away food. Organisers of the gastronomic event, the Viet Nam Tourism Administration, said the festival would help introduce the country, particularly Hue, as destination for cuisine tourism.
On the first night, Vietnamese were reluctant to patronise foreign food stands as they were unfamiliar about the food.
The South Korean stall was the most popular because of the craze for Korean movies and music among young people in Viet Nam.
Hue food, one of the finest and most diversified in Viet Nam, is being featured at well-known restaurants. Tinh Gia Vien Garden Restaurant offers royal style food, while the Ancient Hue presents Hue recipes served Western style.
The festival closes on April 19.