(Cinet)- A well-known American dictionary, Merriam-Webster, has announced more than 150 new words and definitions for 2014, including the Vietnamese word "Pho".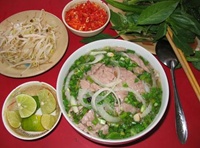 According to the US, Merriam-WebsteTheer, a name of the traditional Vietnamese beef noodle dish was recently added to one of the best-selling dictionaries.
"Pho" refers to traditional Vietnamese soup made of beef or chicken. "Pho" is a Vietnamese noodle soup consisting of broth, linguine-shaped rice noodles called "banh pho", a few herbs, and meat. Pho is a popular street food in Vietnam and the specialty of a number of restaurant chains around the world.
Notably, "Pho" is defined in the dictionary as a soup made of beef or chicken broth and rice noodles.
The word is among 150 new entries in the dictionary's online and print versions this year.
Merriam-Webster is America's foremost publisher of language-related reference works. The company brings out a diverse range of print and electronic products, including Merriam-Webster's Collegiate® Dictionary, Eleventh Edition, which is America's best-selling desk dictionary, and Webster's Third New International Dictionary, Unabridged.
Its first publication was An American Dictionary of the English Language, which was compiled by Noah Webster in 1828.