(Cinet)- Mau Thi Thanh Thuy, Hospitality school student has won the 2013 Vietnam's Next Top Model at the final night held at the city's Rach Mieu Stadium on December 22. Total prizes for this 1m78-tall model amount up to VND2 billion.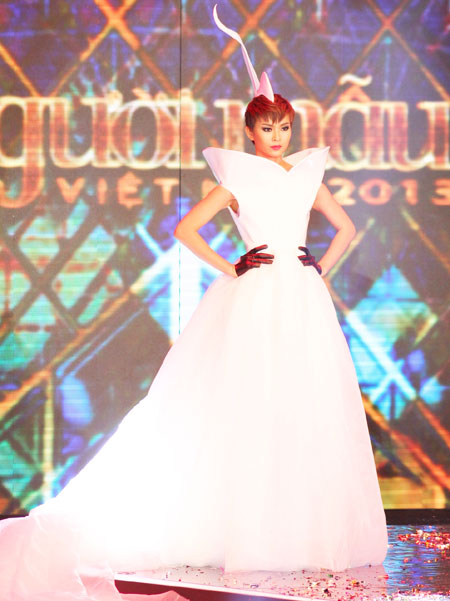 The 21-year-old model, who was more confident than the other three contestants in both the catwalk and photo shoot on the stage, organised by British photographer Lee Powers, has improved her chances of becoming a professional model and entering the international fashion industry.
Jay Alexander, catwalk expert during 18 seasons of America's Next Top Model contest, agreed with Vietnamese jury persons – supermodel Thanh Hang, fashion designer Do Manh Cuong, and makeup expert Nam Trung – that Thuy's confidence during her performance makes her a winner, not only in this contest but in future ones too.
According to the judge, the 2013 Viet Nam's Next Top Model winner has all the qualities required for becoming a professional model. The 1.77-metre-tall student at a hospitality school in HCM City, who triumphed over thousands of contestants, had caught the eye of fashion experts during the pre-qualifying rounds.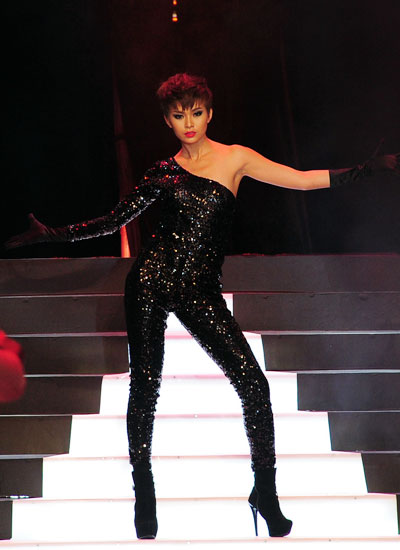 Thanh Thuy was confident in photo shoot on the stage.
This year's competition attracted around 2,000 contestants nationwide. About 70 percent of the participants were students who can speak English better than last years' contestants.