(Cinet)- An exhibition of artwork "Costume ao dai in the cultural life of Vietnam" opened on May 18, at the Exhibition centre 93 Dinh Tien Hoang, Ha Noi.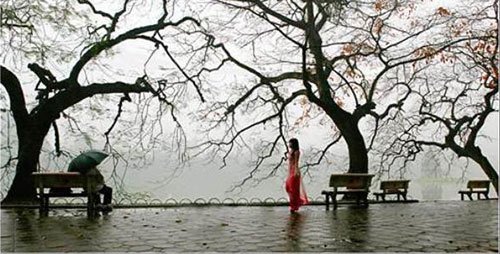 'Mua xuan ben ho Hoan Kiem' by Pham Anh on display in Hanoi – Photo: Pham Anh (Ha Noi)
The show is the result of a contest launched from December to April with the participation of 177 photographers from 21 provinces and cities nationwide with 1,250 entries in total.
The art panel has chosen 125 artworks and 16 winning photos to display in the exhibition. The works reflect the beauty of ao dai (Vietnamese long dress) in daily life to festivals and national cultural days.
'Con mai voi thoi gian' (Forever with time) by Nguyen Xuan Chinh won the first prize while 'Thoi sinh vien 2' (Student Period 2) by Bui Van Ha and 'Mua xuan ben ho Hoan Kiem' (Spring by Hoan Kiem Lake) by Pham Anh came second. The third prizes belonged to 'To hong' by Hoang Cong Tung, 'Con chau Hai Ba Trung vao hoi' (Trung Sisters' children come to festival) by Pham Cao Phong and 'Festival Hue -Bieu tuong net van hoa Viet' (Hue Festival -Vietnamese cultural symbol) by Nguyen Minh.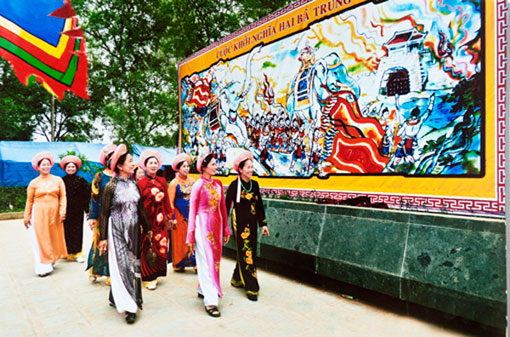 "Con chau Ba Trung vao hoi" - Photo: Pham Cao Phong (Ha Noi).
There were also ten consolation prizes: "Vong xoan" by Hoang Ngoc Thach, "Le an hoi 5" by Do Quoc Truong, "Le hoi Den Thai Vi" by Tran Trong Do, "Mung le thuong tho" by Duy Ngoc, "Buoc chan hoc tro" and "Khoanh khac hoan hao" by Bui Van Son, "Nhu may xuong pho" by Nguyen Huu Vinh, "Xin chu dau nam" by Nguyen Van Danh, "Teng dan dem" by Doan Thi Tho, "Tim Hue" By Truong Vung.
The exhibition last until May 24.