The Vietnamese Women's Museum is hosting a spring celebration inspired by áo dài (traditional long dress) and flowers, including a fashion show, exhibition and other activities honouring traditional cultural values.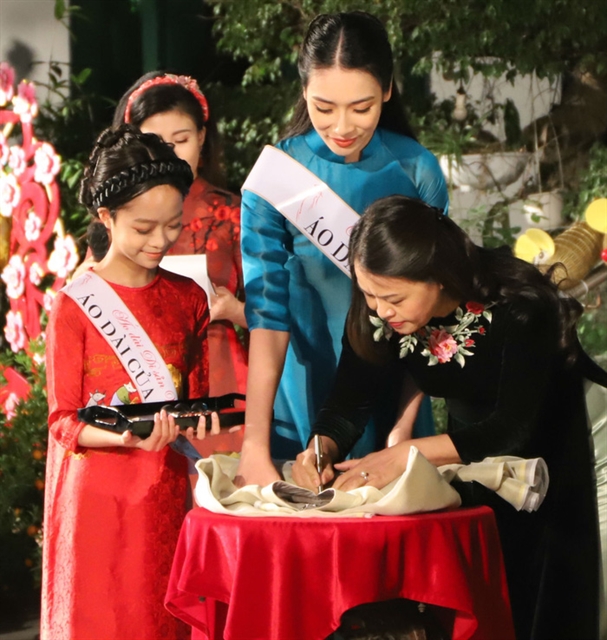 The exhibition, titled Áo Dài and Flowers, kicked off on Saturday, starting a three-month long celebration and providing a unique Tết cultural space for lovers of flowers and áo dài.

The opening ceremony was held with a fashion show of áo dài collections made from hand-embroidered silk and fresh flowers created by designer Lan Hương and artisan Nguyễn Mạnh Hùng, respectively.

Attending the ceremony, Nguyễn Thị Thu Hà, chairwoman of the Việt Nam Women's Union, said it's a meaningful activity to honour áo dài as the national outfit. She called people to sign on a pair of áo dài made by designer Hương. It's a campaign launched by the union to gather one million signatures recognising áo dài as the national dress.

The pair of áo dài are made with patterns representing the cultures of the three regions of the country.

Moreover, the event will also include collections from the 1960s, including outfits that feature images of Hà Nội's old architecture, Đông Hổ folk paintings, and flowers from all four seasons.


The spring celebration promises to bring visitors a multi-dimensional experience about áo dài and flowers in a fresh and creative way.

Visitors have the chance to engage in activities such as signing the pair of long dresses, colouring on a Lunar New Year painting and experiencing cultural diversity through Virtual Reality (VR) technology.

Accordingly, the VR area offers participants a visual tour to discover flower festivals in North, South and Central Việt Nam, Lunar New Year celebrations of different ethnic groups, the making of traditional Đông Hồ folk paintings, áo dài and the former imperial city of Huế.

"The spring celebration is the beginning of a series of events organised by the VWU in co-operation with the Ministry of Culture, Sports and Tourism to honour the unique cultural heritage of the Vietnamese people: áo dài," said the museum's director Nguyễn Hải Vân.

"There is no doubt that áo dài is the traditional costume of Vietnamese women. The outfit has become familiar outside of the country and has been recognised internationally as a symbol of the Vietnamese people."

"The event results from efforts of many people, including artisan Hùng and designer Hương, who have been inspired by the heart and soul of Vietnamese culture to create these beautiful artworks and breathe new life into the development of the dresses."

"However, the cultural heritage of a nation is not promoted by any one individual or group but by collaborating together. Therefore, the event is dedicated to the public, Vietnamese and foreign tourists."

The exhibition will run until the end of March at the Vietnamese Women's Museum, 36 Lý Thường Kiệt Street, Hà Nội.

The museum is open during the Lunar New Year holiday from January 23 to 29.


Source: VNS