(Cinet)- Italian Ambassador to Vietnam, Cecilia Piccioni will go catwalk in Vietnam's traditional long dress (ao dai) for the first time from March 01to 04, in Hanoi.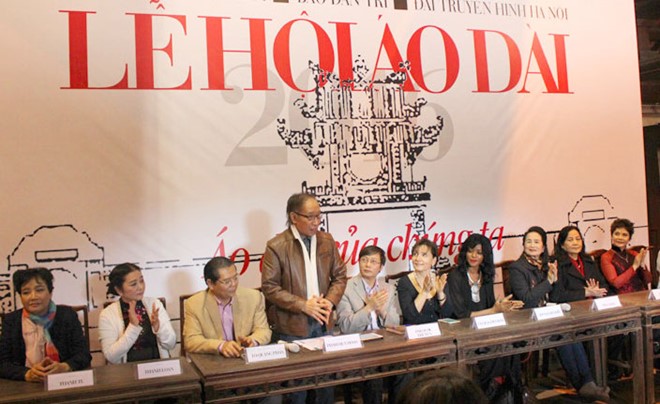 At the press conference of at the Ao Dai Festival. Photo: giaobao.com
Nineteen designers from across the country will present their latest collection of 'ao dai' inspired by various flowers, designer Minh Hanh told a press conference in Hanoi on March 1.
Professional models, children and the disabled will also strut on the stage at Van Mieu-Quoc Tu Giam (Temple of Literature), which was built in 1070 by King Ly Thanh Tong who dedicated it to Confucius. It is regarded as the first university of Vietnam.
The highlight of the ao dai show on the night of March 4 will also be the ramp walk of artists Tra Giang, Thanh Tu, Nhu Quynh, Minh Chau, Ngoc Lan, Thanh Loan and Kim Tien.
Cecilia Piccioni said "being an Italian obviously gives me the opportunity to appreciate fashion. I have a small collection of five Ao Dais. I love to wear them whenever possible. I even wore one during my National Day. I think it's very elegant and comfortable at the same time. I love the care and the attention to the details that make Ao Dai so beautiful"She thinks it will be a very beautiful opportunity to reach out to people because diplomacy is reaching out to people. Public diplomacy is now one of the key tasks for diplomats around the world. And she thinks wearing one of the most iconic Vietnamese masterpieces like the Ao Dai will be more powerful than a million statements because it will convey a message that Italy and Vietnam are strongly connected. This is a very unique opportunity for Italian and Vietnamese co-operation in fashion.