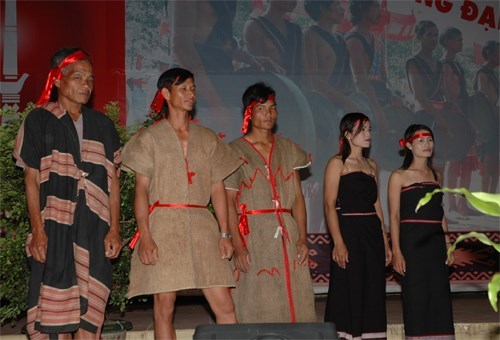 Illustrative image
(Cinet)- The Sedang ethnic group in the Central Highlands province of Kon Tum considers their centuries-old bark clothes – a special fashion as "traditional treasure."
Kontum is a relaxed little town with few sights in their own right. What nevertheless puts it on the map of interesting places in
Vietnam
are the surrounding minority villages, including settlements of the
Sedang
,
Bahnar, Jarai, Gieh Trieng
and
Rengao
ethnic groups.Each village has a
Rong
, a huge and impressive communal house where the villagers gather for special occasions. Strangely enough, French catholics missionary work has been quite successful in this remote part of the country, rendering some of the minorities converts and leaving a few Christian vestiges.
The Sedang used to wear bark clothes at important
events
like welcoming a new communal house or a new rice crop. Nowadays, they only use them at major festivals.
The Sedang then used pestles to beat the skin into a pulp and dried it in the shade to make wood fibers, which were then woven to make clothes and blankets.
To make clothing, villagers said their ancestors chopped a native tree called
loong phoong
into logs of about two meters long and removed the bark. Then they peeled the skin layer between the outer bark and the wood before soaking this skin in water for two months.
A Mam, head of the Dak On Village, said most of bark clothing and blankets have been damaged due to poor preservation. Mam said some people from Ho Chi Minh City and other places have offered to buy them at very high prices but his community will never sell these items.
In the past, our villagers wore bark clothes at important events like welcoming a new communal house or a new rice crop. Now, we only use at major festivals.