(Cinet)- On April 18, autumn and winter collection by 18 Vietnamese and foreign designers light up Hanoi 's Daewoo Hotel.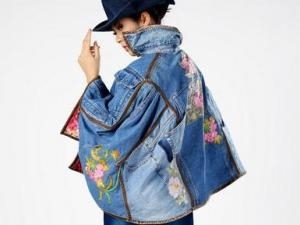 A work by designer Minh Hanh. (Source: Organisation board)
The highlights of the week include a collection by French designer Francoise Hoffmann that features fashion made from silk and sheep fur in a technique that does note use any stitches.
Vietnamese designer Minh Hanh said the French designer was an innovator. "Hoffmann is a pioneer in world fashion who is using traditional techniques with a combination of different materials."
Based in Lyon , Hoffmann is a designer for French haute couture firm Lanvin.
Leading local designers to feature their work at the three-day event include Hanoi-based Vu Viet Ha, who will spotlight traditional hand-knitting in his collection inspired by images of people in northern mountainous region. Ha combines materials such as wool, denim and silk in the collection.
Veteran designer Trong Nguyen has showcased his creativity at many past fashion weeks and this year presents fashion made by "three-dimensional cutting technology."
Nguyen will also help showcase work by six-member team of young designers form the Viet Thang brand at the fashion week. Their collection will be sashayed by models tonight to kicking off the week of fashion.
Scottish patterns inspired designers from the Redwood group, whose clothes create the image of a young tomboy in a short jacket and tartan skirt made from felt cloth in reds, blacks and greys.
Another highlight during the week is a collection tilted Music from Hanoi based Chula brand. The Music collection will reflect the designer's love for music. The clothes are limited to the two basic and made form different materials such as black taffeta, khaki, velvet, denim and wool.
The music theme is featured in 30 fashion designs that combine Vietnamese and Spanish music melodies of flamenco and ca tru (ceremonial singing). The designer also uses graphic designs featuring Vietnamese musical instruments in his collection.
Cinet/VNA